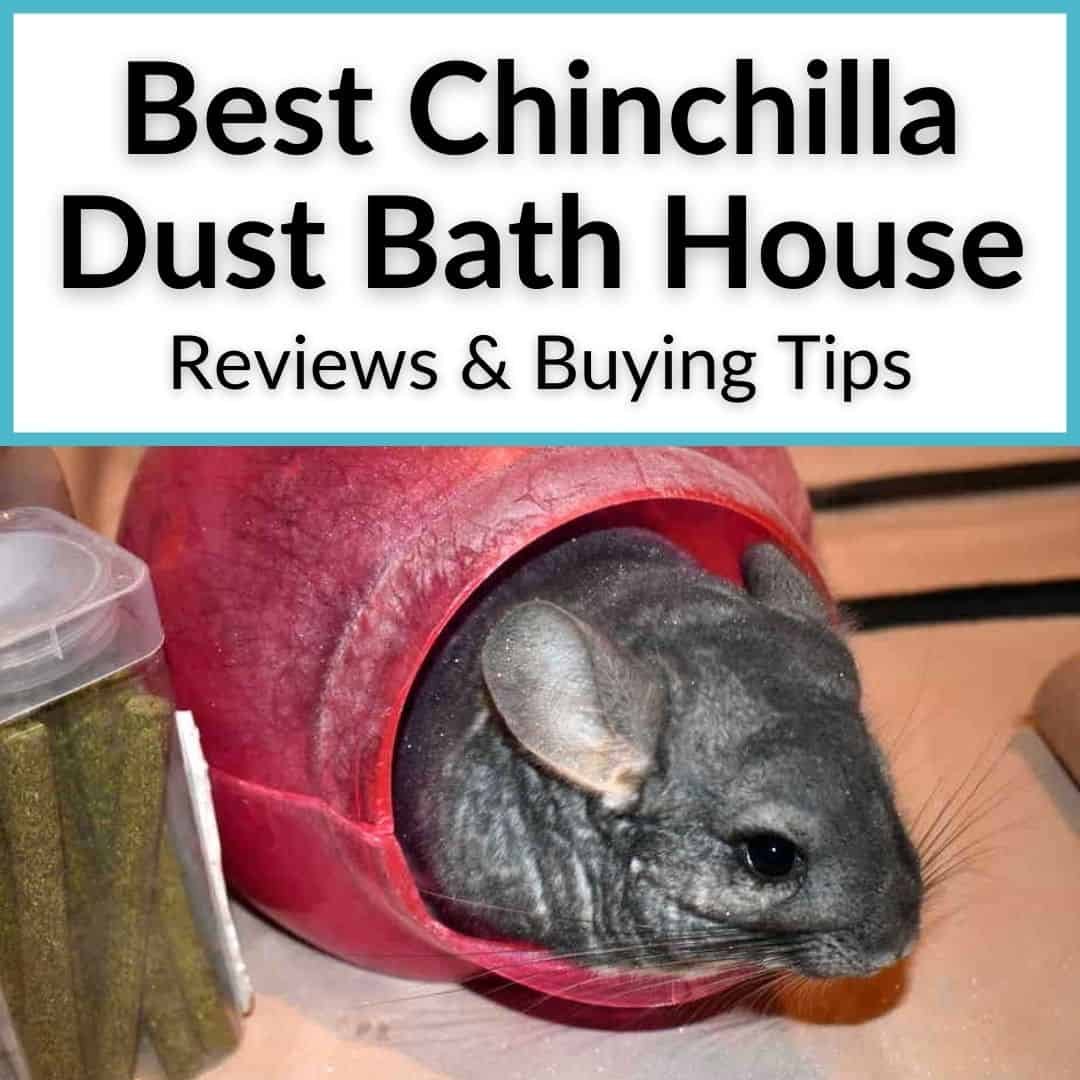 Our main responsibility as chinchilla owners is to provide adequate care.
But it's even better if we can go beyond 'adequate' and give our pets a truly happy life.
One thing chinchillas love is to roll around in dust.
But it's not just a good time.
A regular dust bath is important for their hygiene. Their thick fur makes water useless, so they clean themselves with dust.
Naturally, you want to give your chinchilla the best possible dust. And, of course, the best dust bath house possible.
Keep reading to see the 3 top chinchilla bath houses on the market, plus some buying tips to ensure you buy the right model for you and your pet.
Best Chinchilla Dust Bath Houses Compared
09/28/2023 01:24 pm GMT
This table provides an easy and quick way to compare the top dust bath houses for chinchillas. To learn more about any one of the models, click the 'check price' button in the table to head to Amazon for further information.
Best Chinchilla Dust Bath House: Reviews
Overall, dust bathhouses for chinchillas are straightforward, and you don't have much you need to consider. If it's budget-friendly and can get the job done, it will suffice.
Even with that in mind, it doesn't mean you can't go for a stylish dust bathhouse or select a dust bathhouse that presents a fully enclosed area for your chinchilla to roll around in.
This can help keep the dust from going all over the room and make your life that much easier.
With that in mind, let's take a closer look at the 3 best dust bathhouses on the market.
#1: Kaytee Chinchilla Bath House (Assorted Colors)
The first thing I love about this dust bathhouse is the fact that it comes in several different colors. Currently, you have the option to choose between the following colors:
Purple
Pink
Blue
Light Blue
I also love the size of this dust bath enclosure. It's a comfortable 9.25 x 9 x 8.5 inches and fully enclosed on both sides, the back and the top.
This helps dramatically control the amount of dust that's going to fly into the room during your chinchilla's dust bath, which, in return, can help with allergies.
I also love using this dust bathhouse as my secret weapon to return my chinchilla to her cage when she's in one of her moods.
I trained her to come to her dust bath by tapping on the dust bath with my finger.
We all know how much chinchillas love their dust bath, so if your chinchilla decides to run off or run away in its play area and hide, tap on the dust bath to lure it back out of hiding.
It works like a charm.
While dust baths aren't the most significant purchase you will make for a chinchilla, I still believe they can be ranked from best to not so good, and this dust bath has gotten the job done for me.
That's why it was easy to rank this dust bath house #1.
#2: Trixie Dust And Sand Bath House
I'm also a big fan of the Trixie Dust Bath House for Chinchillas. It's another enclosure that ensures that dust has a tough time escaping, due to being fully enclosed except for the entry point.
I also like its style and unique look. Lastly, a cool feature of this dust bathhouse is that it disconnects. The top can separate from the bottom, making it easy to discard dust or clean the enclosure.
Overall, I prefer the Kaytee. But this one costs a few dollars less than the Kaytee that's ranked #1. It is a great option to consider for anyone wanting to save a few bucks.
#3: Lixit Chinchilla Dry Bath
This dust bath house is not nearly as good as the other two above, but it costs a lot less. And it is still better than any other option out there.
It is also enclosed, apart from the entry point. This helps keep dust inside the bath house, which means a lot less clean up. The top also pops off to make cleaning the bath easier.
It is made from a durable plastic, but it doesn't feel as solid as the other two. At a much lower cost, that can't come as a surprise.
I also don't like the look as much as the other two, but that is a matter of personal preference.
Overall, this is a great option for the price. That said, I would spend a bit more and get one of the other two options above.
Things To Keep In Mind
As I said earlier, the dust bathhouse is one of several items you need when you initially purchase and adopt your chinchilla.
It's also one of the cheapest items and accessories you need to purchase for your chinchilla.
Especially compared to other more substantial purchases that you always need to plan for, such as finding the best chinchilla cage possible for your new pet.
Pick any one of those 3 dust bathhouses broken down for you above, and you will be in great shape.
Best Dry Bath For Chinchillas: Final Thoughts
At the end of the day, a dust bathhouse is one of the required items for your chinchilla. They love it and look forward to rolling in these enclosures.
Be sure to allow them to do so 2 to 3 times per week for optimal results and healthy fur.
Outside of that, have some fun with it and choose a the best chinchilla dust bathhouse with a color that matches your chinchilla's personality or even gender.
Chili and I wish you the best of luck with your new chinchilla.
Share your opinion on the best dust bath houses.
Do you have any dust bathhouses that stand out to you as one of the best options for the readers to consider?
Be sure to share those thoughts, stories, and concerns by dropping a comment below.
As always, Chili and I appreciate you stopping by and reading. Thanks again, and we will see you next time.