Obviously, I love chinchillas.
I mean, I started a blog all about these adorable little rodents!
But why do I love them so much?
There are a lot of reasons.
First and foremost are all the fascinating and unique chinchilla characteristics.
They have a lot going for them!
And if you keep reading you will learn all about the things that make these fluffballs unique and amazing.
In addition to everything below, they are also easy pets to care for, they are clean, and they live a long time. What's not to love?
Chinchilla Characteristics
We will begin by taking a look at the chinchilla's physical characteristics. Then we will move on to characteristic behaviors and their general temperament. Finally, we will look at the characteristic requirements of a pet chinchilla.
Physical Characteristics
What do chinchillas look like? Thay are rounded, soft, furry rodents with dense fur, bushy tails, and sharp, ever-growing teeth. The tails are long, their legs are short and their ears are large and resemble those of a mouse.
Chinchillas can grow to be 16 inches (40 centimeters) long from nose to the end of the tail. They can weigh up to 1.5 pounds (680 grams). Females tend to be larger than their male counterparts.
In captivity, chinchillas can live up to 20 years, with an average lifespan in the low teens. Let's dive in a bit more and take a more detailed look at all the characteristics that make the chinchilla unique and wonderful. A chinchilla is almost squirrel-like in shape, with the following external features.
Ears: large flaps on either side of the head
Forelimbs: short, front legs capable of grasping and holding items
Hindlimbs: slightly longer and very strong for climbing, jumping, etc.
Paw pads: present under the four paws to protect the animal from sharp rocks, heat, cold, etc.
Tail: extremely bushy
Size
Chinchillas measure around 9 to 14 inches in length (22 to 36 cm) with a height of 3 inches or 7 cm. The average weight of this furry critter is about 1.5 pounds, or about 680 grams.
Fur
Chinchilla fur is unique because it is extremely soft, silky, and dense. How dense is chinchilla fur? Each hair follicle on the chinchilla body develops around 50 to 60 hairs, making the fur dense, thick, and impenetrable. This keeps the chinchilla warm in the cold, arid climate of the Andean mountains.
It also keeps them warm in our homes. There is no need to get your pet little outfits. In fact, chinchillas should not wear clothes at all. They can cause a number of issues for these delicate little rodents, including heatstroke, which can be fatal.
Are chinchillas the softest animal in the world? They might be. It is hard to say for sure, but they are certainly in the running. The Angora Rabbit is the animal that gets named as the softest most often.
Chinchilla fur is considered hypoallergenic, since it produces little to no dander. However, people with severe pet allergies might still need to take the usual precautions, like washing their hands frequently after handling their furry pet.
Color Variations And Patterns
There are no different breeds of chinchillas, but they come in various color variations like slate gray, white, beige, and black. Slate gray is the most common color.
Lifespan
Perhaps this is not exactly a physical characteristic, but I did not know where else it could be included. And the average chinchilla's age is an important characteristic, because chinchillas can live a long time in captivity. They can live 15 to 20 years!
Chinchilla Characteristics In Behavior And Temperament
Next, we will look at the main characteristics of a chinchilla when it comes to their behavior and their temperament.
Social Nature
Chinchillas are social animals. In the wild, they live in herds with over 100 chinchillas per group! This offers them safety and protection.
As pets, they do well with same-sex members, or in polygamous units with one male and two or more females. If you plan to keep just one chinchilla, make sure to offer it plenty of human interaction. Note that although they are social, they do not like being handled too much.
Activity Patterns
Chinchillas are primarily nocturnal and consume most of their food between dusk and dawn. They also show crepuscular behavior in the wild, emerging only at dusk and dawn to feed and bask in the sun.
During the day, they sleep huddled together in burrows and crevices in rocks. They spend the rest of their time foraging for food.
Chinchillas are prey animals. They have many predators and need to be constantly aware of their surroundings. They use the protection of the group to stay safe. They also use a defense mechanism known as fur-slip, wherein they release a chunk of fur to startle their predator.
Vocalizations
Most people assume that chinchillas are quiet animals. They can be, but they also use a series of different vocalizations to communicate with each other and express their feelings.
Chinchillas use different vocalizations like chirps, clicks, squawks, screams, chortles, barks, squeaks, spitting/kacking, chattering, etc. to communicate. They use some of these to express excitement and happiness, and others to express fear or make other animals fear them.
Here are some common interpretations of different chinchilla vocalizations:
Squeak: Low, gentle squeaking is a way for a chinchilla to tell you it loves you. Continuous squeaking indicates excitement.
Barking: This is similar to a duck quacking. They use this to warn other chinchillas of predators. Some males may bark when fighting each other.
Chattering or teeth grinding: This is another sign of happiness and contentment.
High-pitched screaming: This can indicate fear, pain, or distress.
Spitting/kacking: Sounds like a cough. It indicates anger or defense.
Chortling: Chortling with increased frequency can mean 'take me out of my cage!'
Squawk: A kit might squawk at its mom, asking her to groom it.
Click: A mommy chinchilla might click at the kit if it bites her.
Behavior With Humans
Chinchillas form loving bonds with humans. They can even be emotional support animals. However, they do not like being handled or cuddled too much. They usually do not bite humans, unless they smell food on our fingers. Sometimes, chinchillas tend to nibble on their owners clothing.
They are curious animals that will look forward to interacting with us. They even show their feelings of love and affection through their body language.
For example, chinchillas can show joy, excitement, or happiness by popcorning. When popcorning, a chinchilla might jump on all fours while twisting its body in air. This is very cute and funny to watch!
Handling And Interaction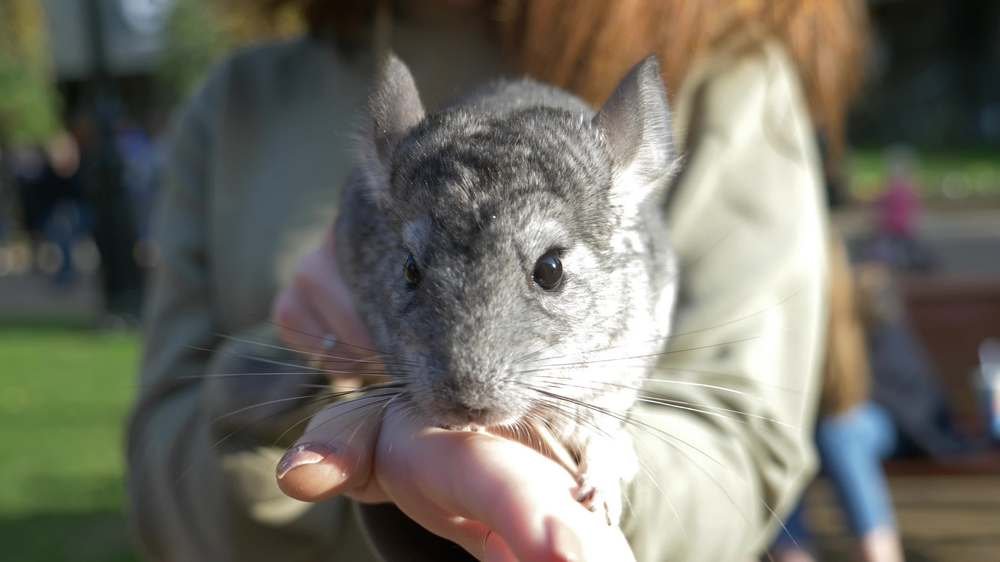 Never handle your chinchilla roughly by its tail, because it can break, causing severe pain to your pet. To handle your chinchilla, hold one hand firmly under its abdomen or scruff or by holding the base of its tail.
Chinchillas are smart animals. They need a lot of mental and physical stimulation in the form of out-of-cage time and daily interaction with humans. You can mentally stimulate your furry pet by training it to perform tricks.
Behavior With Other Chinchillas
Chinchillas use a lot of physical contact with their herd mates. They participate in allogrooming (using hands and tongues to groom each other).
Family groups also huddle together during rest. Another interaction they show is "frisky hopping" which involves racing with each other, prancing, performing vertical leaps, etc.
Chinchillas rarely fight with each other. However, sometimes, they can get aggressive. During fights, they might even kill each other. A chinchilla kills its opponent by climbing on its back and biting its neck.
Chinchillas also tend to be highly territorial. Female chinchillas are usually more aggressive than males, and their aggression is likely to be more prominent during estrus. All that said, chinchillas are no danger to us.
Characteristic Requirements As Pets
In this section, we will discuss the requirements that are characteristic of this species when we keep them as pets.
Cage
Chinchillas are acrobatic animals that like to jump in vertical and horizontal directions. This implies that they need a lot of space in their cage to run, climb, and explore. Choose a multi-level cage for your pet, and remember: the larger the better.
Experts recommend a minimum cage size of 4 feet by 4 feet by 3 feet for one chinchilla. The cage should have solid flooring with drop pans beneath. Kiln-dried pine shavings and fleece bedding are considered good choices for bedding for chinchillas.
Chins are excellent jumpers and are very agile and nimble. Provide plenty of tunnels, perches, and levels in the cage to encourage movement and prevent obesity in your pet.
Chinchillas also need plenty of hiding places to rest. They are a prey species and tend to be skittish and nervous. By providing nesting boxes and hiding areas, you can greatly minimize their stress.
Environment
The recommended temperature range for chinchillas is between 50° and 65° F (15° to 18° Celsius). Temperatures above 80° F could increase your pet's risk of heat stroke. Relative humidity levels should be less than 60%.
Toys
Chinchillas need to chew constantly, so provide plenty of safe wooden and rope toys for your pets. This can help keep their teeth in good condition.
Diet And Nutrition
Chinchillas need a constant supply of high-quality grass or alfalfa hay. They also need high-quality pellets made especially for chinchillas. Your pet will also appreciate occasional treats like raisins, vegetables, and fruits. Always provide fresh drinking water with water bottles attached to the cage.
Health And Grooming
Chinchillas need regular dust baths to keep their dense fur free of parasites, oil, mites, and dirt. You should never wet your chin's fur, because it is difficult to dry and damp fur could result in skin issues.
Chinchillas are prone to dental issues, so schedule regular dental checkups for your pet.
Monitor it regularly for trichobezoars, or hair-balls, because chinchillas spend a lot of time self-grooming like cats. Also keep an eye out for respiratory problems like wheezing, sneezing, and difficulty breathing.
10 Unique And Interesting Chinchilla Characteristics
Next we are going to take a look at 10 characteristics of the chinchilla that make it such a unique animal. Some of this will touch on things already mentioned, but go into a bit more detail.
They Have Soft, Dense, And Thick Fur
Chinchillas are known for their soft, dense fur. A single follicle contains almost sixty hairs, making their fur extremely thick. This thick coat keeps chinchillas insulated from the cold, harsh climate found in the Andes.
Unfortunately, chinchillas are also killed for their fur to make coats, gloves, hats, purses, etc. And it takes a lot of chinchillas to make a single coat.
They Have Sharp, Ever-Growing Teeth
Like many rodent species, chinchillas have ever-growing teeth. They need to constantly chew hay or grass to wear their sharp teeth down. The large, sharp teeth help them chomp down fibrous foods like plants, grasses, hay, tree bark, etc.
They Need Dust Baths
Chinchillas can not bathe in water, because their dense fur makes it hard for them to get dry. This can lead to the formation of mold, which in turn, ca lead to numerous skin issues.
Instead of bathing in water, chinchillas take dust baths in the volcanic ash found in their native habitats. The fine ash powder absorbs excess oils and moisture from their dense coats and also keeps parasites like mites at bay. Regular dust baths keep chinchillas healthy and clean.
They Are Crepuscular Animals
Chinchillas are mostly active after dusk until the early morning hours. They hunt, forage, and climb rocky terrain during these hours.
The low-light conditions keep them safe from predators. They also use the cooler temperatures to conserve their body heat in the cold climate.
They Are Social Creatures
Chinchillas are social animals that live and move in herds. Doing so keeps them safe, because they can rely on each other to stay safe from birds, snakes, and other predators found in their habitats.
Living in herds or groups helps them form complex social hierarchies while enjoying the company of other chinchillas.
They Can "Popcorn"
One of the cutest chinchilla characteristics is its ability to popcorn. When popcorning, chinchillas take a short sprint before leaping a few inches in the air while twisting to one side simultaneously. Then they land on their feet and get ready to repeat the jump.
No one knows for sure why chinchillas popcorn but they typically do so when they are happy or excited.
They Cannot Regulate Their Body Temperatures
Chinchillas do not have sweat glands. They cannot tolerate heat or humidity due to their dense fur, and they cannot pant and cool down like dogs. That is why they can quickly overheat and may even suffer from heat strokes. A heatstroke can be fatal to chinchillas.
The ideal temperature for chinchillas is between 65° and 70° F (18° to 21° C), and the optimum humidity levels are 40 to 60%. If you live in a warm region, you must keep your pet chinchilla in a climate-controlled environment or provide some cooling stones or mats.
They Are Agile Animals
Chinchillas are agile jumpers and can jump up to 5 feet in the air! In the wild, this ability gives them an advantage over their predators. They can easily navigate ledges and rocks as their strong legs help them maintain stability and balance.
They Have Sharp Senses
Since chinchillas are prey animals, they have developed sharp senses. This includes sharp hearing and superior vision. These characteristics are two of their most important defense mechanisms. They help them stay alert to their surroundings and keep them safe from predators.
They Have Long Lifespans
Chinchillas have relatively longer lifespans than cats and dogs. They can live for 15 to 20 years when you take care of them properly. This makes them excellent companion pets for dedicated owners.
Characteristics Of The Chinchilla Personality
Chinchillas have unique personalities and distinct traits. Here is some more info on the common personality traits of chinchillas.
They Are Active And Energetic Animals
Healthy chinchillas love to play and run on their exercise wheels. They are especially active during the night when they climb, look for treats, and engage in other activities. Chinchillas have a few special abilities, like:
Burrowing: They are excellent at burrowing through rocks. They can create complex network of tunnels for shelter and protection from predators.
Jumping: Their strong hind legs can propel them several feet about their heads. They can easily jump to escape land predators.
Speed: Their small bodies combined with their speed make them agile and nimble. This gives them the ability to easily maneuver over rocky terrain.
Superior hearing: Another ability seen in chinchillas is their ability to hear small sounds. This helps them stay alert to dangers in their environment.
They Can Be Shy Around Humans
Chinchillas tend to be shy around humans, at least until they get familiar with us. Once you spend time bonding with your chinchilla, it will happily climb into your palms or come out of its nesting area to take a treat from you.
They Are Food-Motivated
Like dogs, chinchillas are food-motivated. They will do anything for those tasty treats! This makes training them easier, since you can make them do what you want by feeding them healthy, low-calorie treats. But food is only one of the things they really love. Here are the 4 things chinchillas love the most.
Treats
Chinchillas love getting treats like dried apples, bananas, pineapples, and rose hips. Check out safe and delicious snack options for your chinchilla here.
Toys
Chinchillas love having toys in their enclosures. You can provide untreated wooden chew toys made from applewood. Avoid plastic toys, as they can be toxic and could hurt your chinchilla's mouth.
Chinchillas also like hanging toys. They love climbing, so do provide them with ladders, ropes, and safe wooden platforms to climb and explore. These are the best toys for chinchillas.
Dust Baths
Chinchillas love having regular dust baths. They need dust baths to keep their fur clean and free from parasites. Your chin will love frolicking and rolling around in the dust bath!
Nesting Boxes
Although chinchillas are active and energetic, they also love some down time. By providing adequate nesting boxes or hideouts, you will make your chinchilla a happy pet!
They Are Highly-Trainable
Chinchillas are easy to train because of their eager-to-please nature. They love being appreciated and will gladly repeat behaviors to get applause from you. This, combined with their playful nature, high intelligence and food-oriented personalities, makes them highly trainable.
While no scientific tests have been conducted to measure a chinchilla's intelligence, many chinchilla owners have found their pets to show remarkable intelligence and perception from time to time. Chinchillas' characteristics also show us how smart these animals are.
For example, chins love social interactions with their own kind. They form complex social hierarchies and recognize scent markings. This shows us that they recognize family members and friends.
Chinchillas are naturally curious and eager. They love playing with toys and show an eagerness to touch, hold, and lick objects to learn more about them.
In the wild, chins have shown a remarkable ability to remember their tunnels and burrows. Wild chinchillas have also shown traits like advanced spatial memory and problem-solving abilities. They are extremely alert and sensitive to their environments – traits which help protect them from dangerous predators.
Even captive chinchillas are known to navigate obstacles, solve puzzles, learn tricks through positive reinforcement, and even respond to their owner's cues and commands. All these characteristics show us the chinchilla's superior intelligence.
They Are Curious And Inquisitive
Chinchillas are naturally intelligent animals. This makes them curious about things. Your pet will gladly hold items to explore them. It might even lick stuff to taste it!
They Are Social And Friendly With Their Own Kind
Chinchillas are social creatures that love to live in herds of 50 to 100 chinchillas. This makes them social, and they do not like being alone without the company of their own kind.
They Can Be Territorial
Chinchillas can be territorial. They like having their own space to rest or hide. They may even mark their territory to keep other chinchillas out. That is why pet owners must provide each chinchilla with its own food, toys, etc.
They Are Fastidiously Clean Animals
Chinchillas are extremely clean and hygienic animals. They take regular dust baths and groom themselves to keep their fur clean. They also appreciate clean cages and may even show excitement by popcorning after you have cleaned their cage!
What Makes Chinchillas Unique: Final Thoughts
All of the chinchilla characteristics above help make this a unique animal and a unique pet. If you are thinking about getting a chinchilla, knowing what to expect is important.
Now that you have a better idea what a chinchilla is like and what to expect from these rodents, you should be better able to decide if they would make a good pet for you.