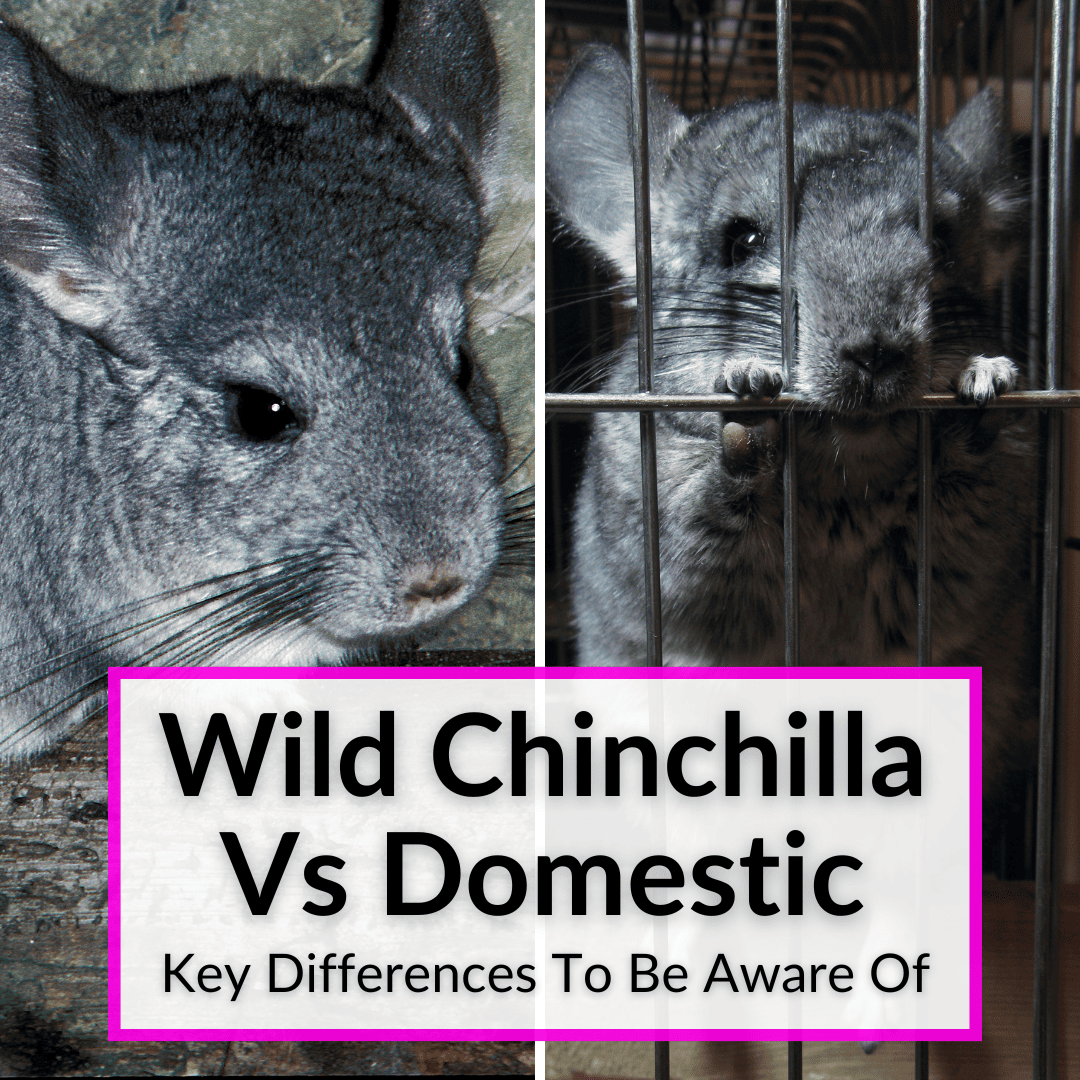 I talk about chinchillas a lot on this site.
That what it is all about, after all.
Mostly, I am talking about domestic chinchillas.
That is the only type of chinchilla most of us ever come into contact with.
But when you compare the wild chinchilla vs domestic ones we are all used to, you'll notice quite a few differences.
Yes, they are the same animal, but they are almost a different species. In some cases, they actually are!
Keep reading to learn all about the similarities and the differences between wild chinchillas and domestic ones. We will cover everything you need to know.
Wild Chinchilla Vs Domestic
We will begin our comparison of wild vs domestic chinchillas by looking at each individually, before comparing them directly. We will finish by listing the advantages of each type of chinchilla.
The Wild Chinchilla
Wild chinchillas are small rodents native to the South American Andes mountains. They belong to one of two species: chinchilla chinchilla (formerly known as chinchilla brevicaudata) or chinchilla lanigera.
Wild chinchillas live in herds or colonies, mainly in the Chilean Andes. A single herd can contain between 14 and 100 members. The herd members protect each other from predators and also keep each other warm.
Wild chinchillas are found at high elevations and prefer the cold, dry climate and rocky terrain. They are blessed with a thick, soft fur that keeps them warm. They mainly survive on a diet of plant leaves, fruits, roots, tree bark, seeds, grass, and small insects.
Unfortunately, wild chinchillas have been hunted excessively for their furry coats and meat, leading to a decline in their populations. Both species of wild chinchillas (chinchilla chinchilla and chinchilla lanigera) are listed as endangered by the IUCN (International Union for Conservation of Nature).
The Domestic Chinchilla
Domestic chinchillas are believed to have descended from the chinchilla lanigera species of wild chinchillas. They are also known as the long-tailed chinchilla and are further divided into sub-species such as la plata, costina, and raton.
Domestic chinchillas are popular pocket pets, but they need extensive care. First, they need to be housed in spacious enclosures in a dry, cool environment. They need a temperature range between 65° and 80° F (18.3° and 26.7° C) given their inability to sweat and regulate their body temperature.
They also have ever-growing teeth and need a diet rich in roughage (hay, grass, and pellets) to keep them worn down. Domestic chinchillas also require regular dust baths to keep their fur dry and clean.
Differences Between Wild And Domestic Chinchillas
There are several differences between wild and domestic chinchillas.
Habitat
Wild chinchillas are mainly found in the Chilean Andes. They prefer cold, arid climates and rocky or hilly terrain with sparse vegetation. Domestic chinchillas are bred worldwide in controlled environments.
Physical Differences
Wild chinchillas are smaller than domestic chinchillas. The latter weigh between 600 and 800 grams (with the females being slightly larger than the males) on average, whereas the former weigh between 400 and 600 grams.
Wild chinchillas also have shorter tails and their necks and shoulders are thicker. They have smaller ears compared to domestic chinchillas.
Wild chinchillas typically have mottled-yellow-gray fur. Domestic chinchillas are available in various colors due to selective breeding, including recessive colors like charcoal, velvet, violet, and sapphire.
Diet
Wild chinchillas forage on plant materials (seeds, tree bark, grass, and other vegetation). They also eat small insects. Pet chinchillas thrive on a diet rich in high-quality hay (usually Timothy hay) and commercial chinchilla pellets.
Behaviors And Habits
Wild chinchillas are agile jumpers. They can jump as high as 6 feet! They run, climb, and navigate easily through the rocky terrain in search of food and shelter and to hide from predators. They live in burrows, cracks, and crevices, which are abundantly found in their natural habitats.
Do chinchillas burrow in the wild? Yes, they do. And they retain that instinct in captivity, so you'll want to provide your pet with opportunities to do so.
Wild chinchillas are crepuscular and most active between dusk and dawn. They depend heavily on their herds or colonies for protection and survival. One herd or colony can have between 14 and 100 chinchillas.
Domestic chinchillas have retained some of these traits but their behaviors and routines greatly depend on their humans. Thus, they behave according to their captive environment.
Selective breeding has also changed certain traits and behaviors in domesticated chinchillas. Pet chins also love climbing and jumping, for which they need perches, ladders, and ramps in their cages.
Domestic chinchillas also need to be housed in pairs or groups of three or four chinchillas to prevent boredom and loneliness. If you only keep a single chinchilla, you will need to spend at least an hour per day playing with it outside the cage to keep it happy.
Grooming
Captive chinchillas need dust baths to keep their fur clean. Wild chinchillas roll around in the volcanic ash that is found abundantly in their natural habitat. This helps remove oil, parasites, and dirt from their fur and keeps it clean.
Wild chinchillas groom each other, too. If you have more than one chin, they will likely do the same in captivity. This fosters social bonding, in addition to cleanliness. It is one reason having more than one chinchilla is a good idea.
Breeding And Reproduction
Wild chinchillas typically breed in the cooler months between May and November. Captive chins could breed all year, under climate-controlled conditions.
Lifespan
Due to environmental dangers, predators, shortages of food, and excessive hunting, the lifespan of wild chinchillas is less than that of pet chinchillas. They live around 8 to 10 years.
Captive chinchillas live longer due to protected environments, regular veterinary exams, and healthy diets. Many are known to live for more than 15 years. Some even live for more than 20 years.
Conservation Status
Wild chinchillas are endangered and nearly extinct as poachers hunt them for fur and meat. Domestic chinchillas are mainly sold as pets by breeders.
Ethical breeders breed domestic chinchillas sustainably, and they make sure to follow guidelines and adhere to health and welfare measures. This has considerably increased their population.
Similarities Between Domestic And Wild Chinchillas
There are many similarities between wild and captive or domestic chinchillas, which should come as no surprise since they are basically the same animal. Here are the main similarities.
Diet
Both types of chinchillas are primarily herbivores and eat a plant-based diet consisting of hay, grass, tree bark, leaves, seeds, fruit, and other vegetation. Their digestive systems and teeth need this fibrous diet.
Habitats
Wild chinchillas prefer a cold, dry climate. Domesticated chinchillas also need a cool, climate-controlled environment. They cannot withstand high temperatures and humidity and are susceptible to heat strokes.
Appearance
Both wild and domestic chinchillas have thick fur because each hair follicle on their skin has 60 to 75 hairs growing out of it. This gives them the thickest fur among land mammals.
They also have large, round eyes and rodent-like rounded ears, sharp, ever-growing teeth, and strong hind legs for ease of climbing and jumping.
Behaviors And Habits
Both varieties are agile jumpers. They also display crepuscular behavior, meaning they are more active in the hours around dusk and dawn. They are also social animals that enjoy the company of their own kind.
Both animals are fastidious self-groomers and keep themselves and other chinchillas in their herd or group clean.
Reproduction
Both types breed and reproduce in the same manner. The kits are born with fur and open eyes and are fully developed.
Advantages Of Wild Chinchillas
A young wild chinchilla could make a great pet but it will need a lot of socialization.
Wild chinchillas cost less than captive-bred chinchillas. You might even get one free!
Wild chinchillas tend to be more independent and won't need as much attention as domesticated chinchillas, as long as their basic needs are met.
They are more likely to be hardy and healthy because their bodies are used to harsh conditions.
Advantages Of Domestic Chinchillas
Domestic chinchillas are more likely to be friendly and affectionate toward humans, since they are used to being handled.
They have a longer lifespan: almost 10 years more than wild ones.
They are less likely to wander because they prefer the security of their enclosure or hutch.
Domestic chinchillas may carry fewer diseases and parasites than wild chinchillas.
Domestic Vs Wild Chinchillas: Final Thoughts
When you compare the wild chinchilla vs domestic, you obviously notice all the similarities. They are the same animal, after all. But there are also a number of key differences.
The two types of chinchillas even look different. Apart from that, there are differences in the way they behave, what they eat, how long they live and more. Hopefully you now have a good idea exactly how the are different and how they are similar.