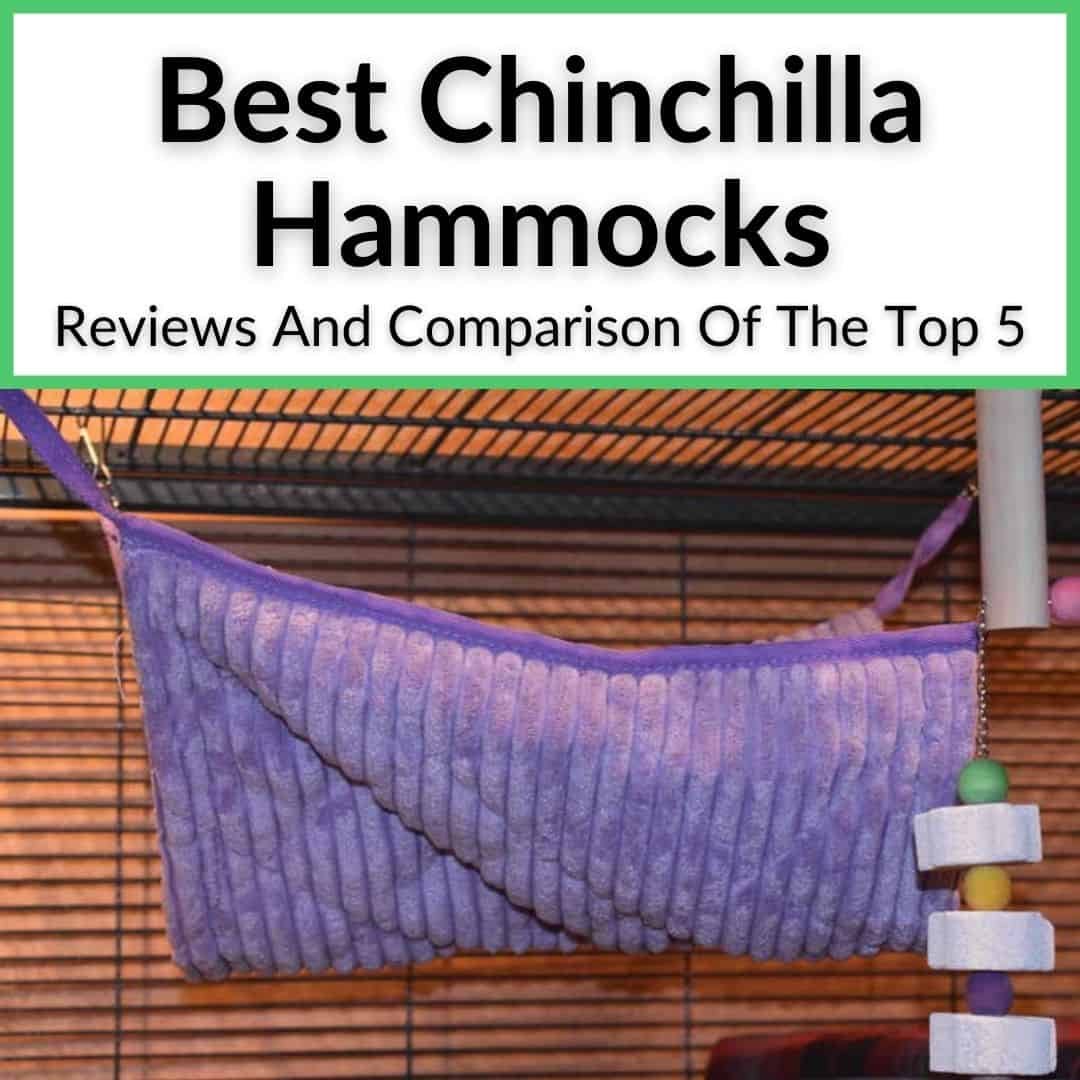 Chinchillas spend the vast majority of every day inside their cage.
So you want to give them plenty of fun toys to keep themselves entertained.
And one of the best ways to provide some fun and comfort inside the cage is with a hammock.
Not all chinchillas love hammocks. But if yours does, it will become one of its favorite pastimes.
But you do need to make sure you buy a good hammock.
The best chinchilla hammocks are safe, comfortable, and inexpensive.
Keep reading for a rundown of my 5 favorite hammocks for chinchillas, followed by brief reviews of each.
Best Chinchilla Hammocks Compared
09/28/2023 08:09 am GMT
For the record, I've owned a chinchilla for several years and I personally use the #1 recommend hammock on this list.
I just wanted to point that out to make you comfortable that this is coming from someone who actually has purchased the items discussed in this post and someone who actually owns and cares for a chinchilla.
Top 5 Chinchilla Hammocks Reviewed
What follows are brief reviews of the 5 best chinchilla hammocks. This includes a list of the advantages and disadvantages of each model.
#1: Niteangel Luxury Double Bunkbed Hammock
Niteangel Luxury Double Bunkbed Hammock
Pros:
Very large hammock (could easily support 2 chinchillas)

Quality material

Quality and durable clip construction

Easy installation into cage

Soft and comfortable for your chinchilla
Cons:
Requires 4 straps for hanging

Thick material

Potential for chewing

Quilted seams can break down with wear and tear
View on Amazon
We earn a commission if you make a purchase, at no additional cost to you.
09/28/2023 08:09 am GMT
The Niteangel is the hammock I currently use for my chinchilla. My chinchilla is a female, so I chose to go with the purple option. This hammock is currently offered in purple, brown, and tan.
This hammock is 16 inches across the bottom, 12 inches across the top, and 12 inches deep.
I actually made a quick video reviewing and showing you the Niteangel chinchilla hammock. Watch it for a little behind the scenes look into my chinchilla's cage with her favorite hammock.
Keep In Mind
Keep in mind the dimensions we mentioned previously about this specific hammock. It's slightly larger than other hammocks, which can require more space inside your chinchilla cage.
It's one of the reasons I always recommend a large enough cage. If you need further information about choosing the proper chinchilla cage size, you see my post here. You can also review my top chinchilla cage recommendations here.
Overall
Other chinchilla owners in forums, social communities, and even in the product reviews, tend to love it. I personally love this chinchilla hammock as well.
My chinchilla doesn't necessarily use it daily, but she does use it often and does sleep inside it, when she's not sleeping inside her nesting box. Out of all the hammocks I tried, this one was my favorite, which is why it is the one I still use.
#2: Alfie Pet Mallory Hammock
Alfie Pet Mallory Hanging Hammock Bed
Pros:
Easy clips for installation

Easy clean (can be hand washed or machine washed)

Wide opening for resting

Excellent durable fleece lining

Affordable
Cons:
Clips are larger than other hammocks (requires large cage bar spacing)

Both sides have thin meeting seams that could unravel under stress

Small size may not accommodate 2 chinchillas
View on Amazon
We earn a commission if you make a purchase, at no additional cost to you.
09/28/2023 07:49 am GMT
The Alfie Pet Mallory chinchilla hammock is another top hammock to consider for your chinchilla. It comes offered in two sizes: small and medium.
It's also offered in two different colors. It measures 9 inches long by 9 inches wide.
Keep In Mind
Always keep in mind that chinchillas like to chew.
Any time you place a hammock like the Alfie Pet in your chinchilla's cage, you want to keep watch, to ensure your chinchilla isn't chewing and ingesting the fabric.
Use other alternatives to stimulate your chinchillas chewing and to allow it to grind its teeth. Lean towards chinchilla safe toys and always avoid other items such as chinchilla salt licks.
Overall
This hammock ranks #2 in my book. I'm a massive fan of using fleece for chinchillas. I use it for bedding and to cover the ramps in the cage.
#3: SEIS Love Pattern Hammock
Seis Love Pattern Hammock
Pros:
Unique and decorative

Soft velvet for comfort

Can be used for play or sleep

Straps are less accessible for your chinchilla to chew
Cons:
Not as sturdy, using only 2 clips for attachment to cage

Stray material enticing additional chewing

Could get hot if your room is not at ideal temperatures
View on Amazon
We earn a commission if you make a purchase, at no additional cost to you.
09/28/2023 07:44 am GMT
This hammock is suited for 1 chinchilla. It comes in three different sizes.
It's also one of the more stylish options you can choose.
Keep In Mind
The last con I mentioned in my list is the one to always be careful of. This specific hammock has an enclosed roof or top.
You must be careful that you don't have a room that's too hot for your chinchilla. An enclosed hammock could add to the risk of overheating.
Overall
I like this hammock option. I think it's stylish, and I personally like the fact that its enclosed, as long as you keep the room cool enough.
It helps to keep your chinchilla from chewing the strap attachments, which is a positive. We all know how much a chinchilla likes to chew.
#4: Alfie Pet Kasey Triangular Hammock
Alfie Pet Kasey Hanging Hammock Bed
Pros:
Stable, with 4 clips to mount to chinchilla cage

Fleece lining

Easy to clean

Comfortable and breathable
Cons:
Only suitable for 1 chinchilla

Not as thick a material as other options

Small straps
View on Amazon
We earn a commission if you make a purchase, at no additional cost to you.
09/28/2023 09:39 am GMT
This another one of the colorful and stylish options you must dress up your chinchilla's cage.
You can choose between green and pink; it's one of the larger options you can select at 15 inches long and 15 inches wide.
Keep In Mind
This hammock is another hammock to be careful with, due to it having a relatively small enclosure area.
Overall
This model is ranked #4 in my book. It's a stylish and sleek hammock that provides comfort for a reasonable price.
#5: Emours Small Animal Hanging Bed
Emours Small Animal Hanging Bed
Pros:
Huge resting area

Strong support clips

Soft fleece

Durable
Cons:
Too big for some smaller chinchilla cages

Not technically a hammock
View on Amazon
We earn a commission if you make a purchase, at no additional cost to you.
09/28/2023 07:39 am GMT
This hammock looks quite different than the other options. Emours calls it a hanging bed and that is perhaps a better description than a hammock.
But it's still a hanging contraption in which a chinchilla can play or sleep. And it is designed to look like a loaf of bread! Plus it is super comfortable.
Keep In Mind
A large chinchilla cage is going to be required for this hammock due to the size.
If you need to read my review on a perfect option, see my post about the Critter Nation 2 Chinchilla Cage here. It's the best chinchilla cage currently on the market.
Overall
An excellent hammock but only ranked #5 on my list for a reason. I prefer a true hammock, over this hanging bed style. That said, if you like the look, it is a great choice.
Do You Need A Chinchilla Hammock?
In all reality, you don't have to worry about purchasing a hammock for your chinchilla.
I do, however, recommend it.
My chinchilla enjoys her hammock and uses it relatively frequently. Some chinchillas may not be the same way, but for the price you pay for the hammock, it's worth trying.
It gives the cage some appeal and offers your chinchilla one more thing to do and 1 more alternative to sleep comfortably.
Other Things To Consider With Chinchilla Hammocks
I'm sure you could tell from reading this post that a few common concerns continue to arise with every hammock you can choose for your chinchilla.
Always ensure that you have a cool enough room where your chinchilla won't overheat. Also, ensure your chinchilla doesn't go on a chewing spree with the hammock. Outside of that, you are in good shape to try and of the 5 hammocks discussed above.
Best Chinchilla Hammock: Final Thoughts
At the end of the day, chinchillas do need specific items in their cage. A hammock isn't necessarily a need, but it's something I'd still put near the top of your list.
Chinchillas sleep a lot each day and giving them another easy method to sleep is never a bad thing. Regardless of which hammock you choose above, there is a good chance your chinchilla will love it.
Best of luck with your new chinchilla and best of luck testing and trying all the chinchilla accessories.
What chinchilla hammocks do you believe are the best?
As always, I prefer my readers to share their concerns, thoughts, and stories after all my posts.
Do you have any chinchilla hammocks you would add to this list? Do you have any other safety precautions you would recommend?
Be sure to share these concerns, thoughts, and stories by dropping a comment below.
Chili and I appreciate you stopping by. Thanks for reading, and we will catch you next time!