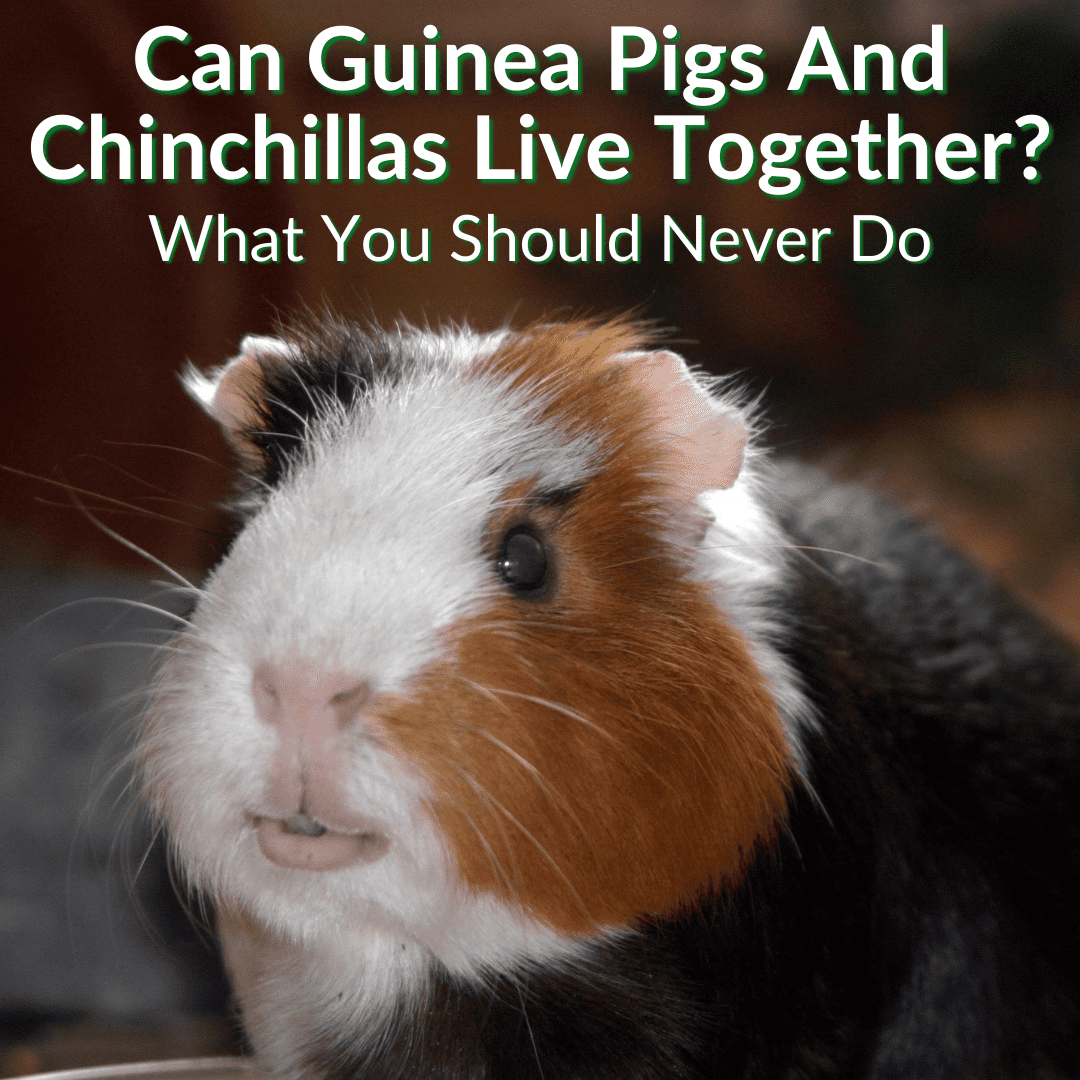 Guinea pigs and chinchillas are both rodents.
And they are both adorable.
And both are social creatures that love to interact.
Sounds like a match made in heaven!
Not so fast.
While it is true that guinea pigs and chinchillas can get along well, that does not mean they can live together.
They can share a house, but not a cage.
There are a number of reasons for that. Keep reading to learn exactly why you always need to keep chinchillas and guinea pigs in separate enclosures.
Can Guinea Pigs And Chinchillas Live Together?
No. While both guinea pigs and chinchillas fall in the same category of cute, furry rodents, they are different species. They have different needs and require different care.
Perhaps you have one of these adorable rodents, and you're considering getting the other one, so that your pet doesn't feel lonely. While the sentiment is understandable, and having both is great, it is never a good idea to keep two different species in the same cage.
Not only do they have different care requirements, but there is a high likelihood they will fight each other.
Chinchillas are very social creatures, so it's only fair to think that getting your furry friend a companion would be a great idea. And getting a second chinchilla can work well.
But not a guinea pig. At least not in the same enclosure. Let's take a closer look at exactly why this isn't as good an idea as it might seem.
Do Guinea Pigs And Chinchillas Get Along?
As mentioned, these two rodents are similar and get along just fine. As long as they are not living together in the same cage. That is unlikely to go well. Let's take a closer look at the reasons for that.
Why Chinchillas And Guinea Pigs Shouldn't Live Together
Before we can explain why these two furry friends (our friends, but probably not friends with each other) are compatible, but still not good together, we need to explain the personality traits of both rodents.
We'll give an overview here. Our article comparing the guinea pig vs chinchilla goes into much more detail.
Chinchilla Personality
Chinchillas are social rodents, but only in their own herds. Their social traits do not play well with other breeds of rodents like hamsters or guinea pigs.
Do hamsters and chinchillas get along? Sure, they can get along just fine. But it is not likely. They are just too different. Plus chinchillas just aren't that into other species.
They prefer to be around their own kind and don't like to share their space with other animals. In fact, most chinchillas are perfectly happy being alone. That said, they crave social interaction and need to get it from a second chinchilla or from you.
Some chinchillas have certain personality traits (yes, rodents have personality traits as well) like being submissive and timid, so any external stimulus or change in the environment can heavily influence their well-being.
In this instance, their compatibility with other rodents can be unfortunate, and they'll eventually submit themselves to the dominant rodent.
Guinea Pig Personality
The same goes for guinea pigs. They don't like living with other species either. Having similar personality traits as a chinchilla, they also happen to be social creatures and prefer being around their own kind, instead of being around other species of rodents.
Guinea pigs do like having a companion, being the social creatures that they are. But they want companions of their own kind. The best match would either be between two guinea pigs of around the same age, or an adult and a baby guinea pig.
That said, certain animals of a completely different species altogether can show compatibility with guinea pigs. Dogs or rabbits can get along quite well with them. But they should still not share an enclosure.
Once you've understood their individual personalities, it becomes easier to understand why these two furry creatures aren't compatible with each other. Let's discuss the major reasons you can't keep these two separate species of rodents in the same cage.
Chinchillas And Guinea Pigs Have Different Nutritional Needs
While both of these rodents are primarily herbivores (chinchillas do eat animal protein occasionally in the wild, making them omnivores), the two rodents have different nutritional requirements.
A guinea pig normally eats timothy hay, spinach, and grass, with hay being an essential part of its diet. Chinchillas, on the other hand, eat leaves, twigs, and hay as well. While both rodents share a love for grass hay, other nutritional requirements are a bit different.
In captivity, both will eat a lot of Timothy hay and additional food pellets. The difference is that the pellets for chinchillas and those for guinea pigs contain different nutrients. Chinchillas can eat guinea pig food, but it won't give them all of the nutrition they need. And vice versa.
Guinea Pigs And Chinchillas Like Living Alone
If they're not living with their own kind, both guinea pigs and chinchillas value their personal space as much as most humans. That is a good enough reason for their lack of compatibility.
Both Prefer Living With Their Own Species
As mentioned earlier, both guinea pigs and chinchillas like living with their own kind. While both rodents share similar traits and qualities, these traits are a common reason for their incompatibility.
Tendency To Defend Their Space
If you keep a chinchilla and a guinea pig in the cage, it is very likely that they'll end up fighting for their space in the cage. They are simply wired this way. Not unlike us humans, to be honest.
Some chinchillas with a timid personality won't be able to last an hour in the cage with an outgoing and social guinea pig and will eventually succumb to defeat.
Can Chinchillas Live With Other Pets?
These furry rodents usually prefer living alone, but chinchillas can live with certain animals of different species.
We do not recommend that you keep it with other pets in the same cage, because it puts your furry friend at risk and makes it fearful. But if you really want another pet, here are a few animals that have shown compatibility.
Rabbits
As prey animals, chinchillas thrive well around other prey animals. What better way to keep your chinchilla company than getting a rabbit?
Rabbits are generally harmless creatures and prove no threat to furry rodents like chinchillas. Keeping them in the same setting as a chinchilla wouldn't be intimidating for either rodent.
It's important to note, however, that while it's okay for them to live together, it is not recommended that you put them in the same cage with each other. Chinchillas are very sensitive to smell and wouldn't like to be in the same cage as a rabbit, or any other animal, for that matter.
We recommend that you don't even keep them in the same room, because chinchillas are very reactive toward smells.
Birds
Unless you wish to keep an eagle in your house, it is generally safe to keep a bird in the same house as your chinchilla.
We recommend not keeping them in the same room, however, because birds tend to be very noisy with their high-pitched sounds. Your chinchilla would constantly feel uneasy. They tend to prefer quiet and peaceful settings.
Chinchillas cannot live with predatory animals like dogs or cats because they're fearful creatures, and it could put their life at risk.
Are Guinea Pigs Or Chinchillas Better Pets?
While both guinea pigs and chinchillas are great pets to have, it is easier to keep guinea pigs as a pet. They're easier to handle and take care of. Chinchillas take a bit longer to trust you and eve then, they are not as open to being held and cuddled as guinea pigs.
But chinchillas live longer and are lower maintenance. They do not require as much cleaning. They are also not as susceptible to illness. It should be clear from the name of this website, that I prefer chinchillas. But for most people, guinea pigs are probably the easier choice. Especially if you have young children.
Guinea Pigs And Chinchillas Living Together: Final Thoughts
Guinea pigs and chinchillas can live together in the same house, but they should never share a cage. Not only do they have different nutritional requirements and other needs, but they are also likely to fight over their living space.
The closest you should come is to have two separate cages and put them next to each other. I do not recommend keeping them in the same room permanently, but you can put their cages together occasionally to get them used to each other.
If they seem to get along, then you could try letting them out for playtime together. But no matter how well they get along during playtime, you should still never force them to live in the same enclosure. That is simply a recipe for disaster.