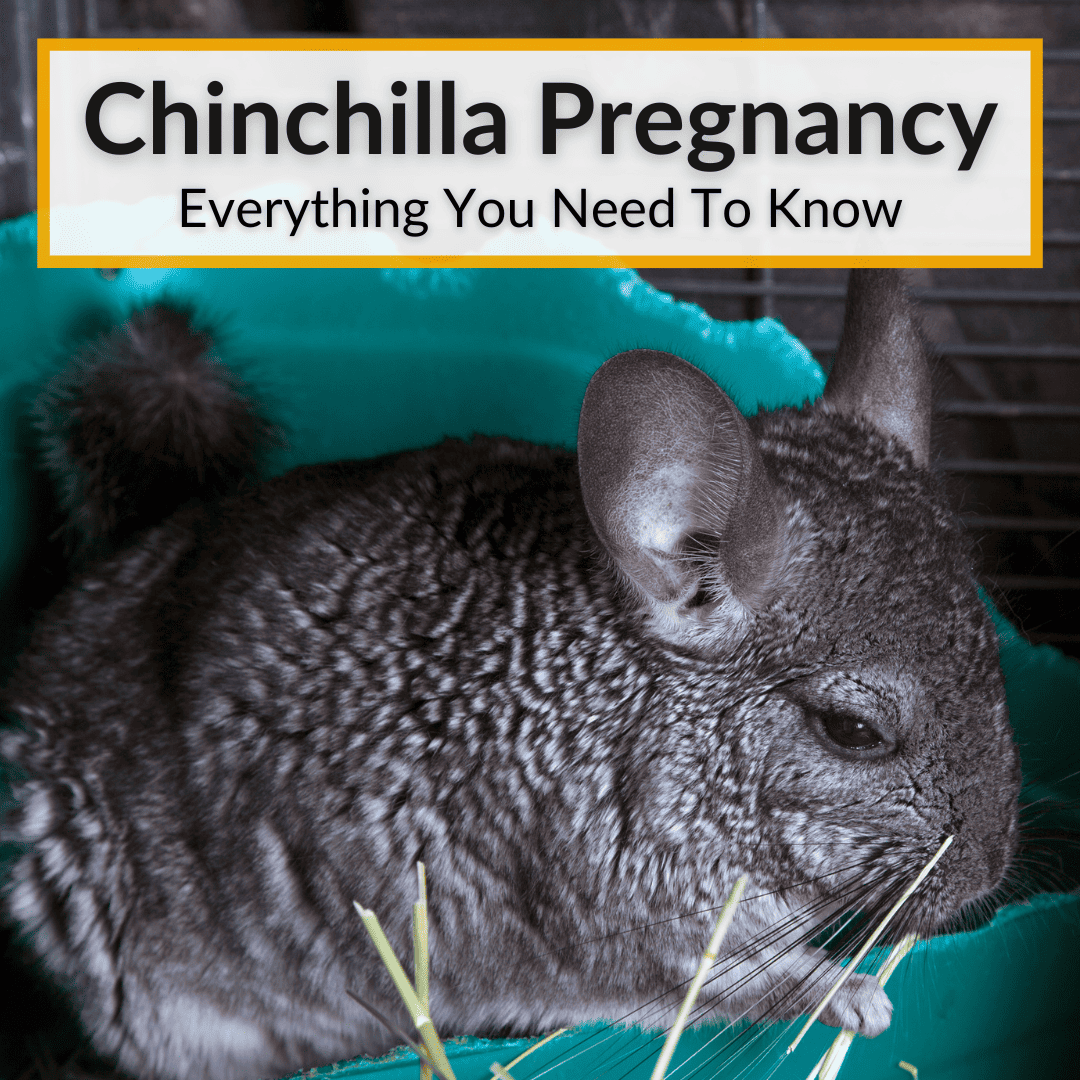 Pregnancy is incredibly hard on the mother.
That's true whether she is human, chinchilla, or any other species.
When it comes to chinchilla pregnancy, you can make it much easier on your pet. And on you.
You do that by knowing what to expect, and what is expected of you.
And that is what we are going to help you with today.
Keep reading to learn all about the chinchilla gestation period and what your expecting mother needs from you during this difficult time. Together, you will get through her pregnancy and deliver those beautiful kits!
Chinchilla Pregnancy
If you are breeding chinchillas, you need to weigh your female chinchilla after mating. If she is steadily gaining weight, she may be pregnant.
She might also show other behavioral changes like aggression, nesting, etc. Chinchilla pregnancy usually lasts for 111 days, or a little over 3.5 months. You can mate your chinchillas 2-3 times a year. They give birth to 1 to 2 kits (babies) per litter, on average.
How Do I Know If My Chinchilla Is Pregnant?
While every chinchilla is different and may show different signs of pregnancy, here are some common signs to watch out for after your chinchilla pair has mated.
Weight Gain
One of the first signs you'll notice in your pregnant chinchilla is a steady weight gain. You can weigh your pet every few days, and if she is steadily gaining weight without any dietary changes, then she could be pregnant.
Behavioral Changes
A pregnant chinchilla may become more active as her pregnancy progresses. She might start scurrying around her cage to gather nesting materials. She might carry some bedding back to her nesting box or hideout.
Some chinchillas also do not like being handled when pregnant and may become aggressive when you try to take them out of the cage. Sometimes, they even show aggression toward their cage mates. In such a case, it may be best to provide separate housing for your pregnant chinchilla.
Swollen Abdomen And Enlarged Teats
One of the surefire signs of chinchilla pregnancy is a swollen abdomen and prominent, enlarged pink teats. These are advanced signs of chinchilla pregnancy.
Reduced Appetite And Lethargy
As the pregnancy progresses, your chinchilla might stop eating or eat very little. She will also become inactive and sleep or hide more.
Can You Handle Chinchillas While Pregnant?
It is generally better not to handle your chinchilla as her pregnancy progresses. You can handle her just enough to weigh her from time to time. But once you have established that she is pregnant, it may be best not to do even that.
Chinchillas can get quite aggressive in the later stages of their pregnancy as they undergo many hormonal changes. Pregnancy is also a sensitive time for your girl. Over-handling could cause stress for her, even though you obviously mean well.
Understand that a stressed pregnant chinchilla could suffer birth complications and even miscarriages. Therefore, it is best not to handle her unless absolutely necessary.
Make sure to provide your chinchilla with adequate food and water. She also needs nesting boxes and a quiet place to sleep. It is better to give her a separate, spacious cage to rest in, away from other chinchillas.
How Does A Pregnant Chinchilla Act?
As mentioned above, pregnant chinchillas can show varied chinchilla mating behavior. This can include the following.
Irritation Or Aggression
Pregnancy results in hormonal changes in the chinchilla. This can cause her to behave aggressively or show irritability towards humans and other chinchillas.
Nesting
To prepare for the arrival of her kits, the mommy-to-be might show nesting behavior. She will scurry around the cage and carry bedding back inside her hideouts or nesting boxes.
Increased Or Decreased Activity
Some chinchillas become increasingly active in the early stages of their pregnancy. Conversely, they may become inactive and lethargic as their pregnancy progresses. They might sleep more as they prepare to give birth.
How Long Is A Chinchilla Pregnant?
Chinchillas have a long gestation period compared to other small animals. Most chinchillas are pregnant for 111 days on average, although the actual gestation period could be between 105 and 115 days.
This means that most chinchillas are pregnant for an average of 3.5 months. If you suspect your chinchilla is pregnant, have her examined by an exotic vet. Provide her with the right diet and supplements, as advised. Make sure she has a quiet place to rest.
At What Age Are Chinchillas Pregnant?
You can begin to breed female chinchillas from 6 to 8 months of age, you can mate males between 7 and 8 months of age. You can ideally breed your chinchillas until the age of 2 years.
Breeding chinchillas before they reach sexual maturity could result in health issues in the kits and may even cause complications like miscarriages or stunted growth in the kits.
As a responsible breeder, you should make sure that your chinchillas are healthy enough to produce offspring. If needed, have your pets examined by a vet specializing in exotic animals before beginning a breeding program.
How Long Are Chinchillas In Labor?
Chinchilla labor can last for a couple of hours. The kits are usually born one hour apart. If your chinchilla seems to have been in labor for over four hours, she may need medical help.
Here are the signs your chinchilla is in labor:
Restlessness: Your pregnant chinchilla might pace around her cage. She may move about restlessly, carrying bedding from one place to another inside the cage.
Abdominal contractions: As the labor progresses, there may be visible twitching or rhythmic movement along her abdomen.
Panting: Your chinchilla might have labored breathing or may pant excessively.
Hiding: She might hide inside her nesting box as she seeks isolation to give birth. It is best not to approach or handle her at this point. It is also important to keep other chinchillas away from her nesting box to avoid aggression from her end.
What To Feed A Pregnant Chinchilla
Here are some general guidelines to follow when feeding your pregnant chinchilla.
High-Quality Chinchilla Pellets
Your vet or breeder can recommend a brand. Make sure the brand you select contains vitamins, minerals, herbs, and flowers. It should also have prebiotics and probiotics to support your pregnant chinchilla's digestive health and immunity.
Hay
Pregnant chinchillas have a higher need for protein and calcium. Therefore, you can feed some alfalfa hay to pregnant and nursing chinchillas, in addition to the standard Timothy hay, because alfalfa hay is much higher in protein and calcium.
Fresh Water
Make sure to keep fresh drinking water accessible to your chinchilla at all times.
Supplement
Your vet might also prescribe some calcium supplements for your chinchilla. Feed them as directed.
What About Fresh Fruits And Vegetables?
Your pet does not need fresh fruits and vegetables. In fact, chinchillas have a hard time digesting them. Only a few fruits or vegetables are ok to feed chinchillas, but only in tiny amounts and very occasionally. It is better to avoid fruits and vegetables altogether.
How To Prepare For Chinchilla Birth
Here are some steps to take to prepare for your chinchilla's pregnancy, labor, and birth.
Provide Separate Housing And Bedding
This is necessary to ensure that your chinchilla gets time to rest and does not show aggression to other cage-mates. She can also create a nesting area where she can give birth.
The cage should be spacious and clean. Choose a wire cage with solid flooring to prevent injuries to the kits' paws.
Offer plenty of nesting or bedding material for your pet to build a nest. Suitable materials include shredded paper, untreated or unbleached tissue, and safe wood shavings.
Food And Water
Make sure there is adequate food and water available for your chinchilla. Your vet will recommend protein and calcium-rich foods, commercial pellets, and alfalfa hay. You may also administer a calcium supplement, because pregnant and nursing mothers need extra calcium.
Monitor The Pregnancy
Keep an eye on your girl. As she approaches labor, make sure she is comfortable and delivers the kits safely. If the labor seems to continue for long time, please call your vet.
Keep some containers, towels, tissues, etc. ready as she gives birth. Sometimes, you may need to separate the kits from the mother, but generally, they stay with her for a while. How long do the kits stay with the mother? That article covers it in detail.
Monitor The Kits
Ensure that the kits are nursing well and growing properly. If you notice any health issues or concerns, consult a veterinarian experienced in small animal care.
Chinchilla Gestation Period And Pregnancy: Final Thoughts
Chinchilla pregnancy is difficult on the expecting mother. And also on you! You find yourself constantly worrying that you are doing everything you can to make your pet as comfortable as possible. And that you are not doing anything to harm her or her future babies.
Hopefully you now have a good idea what to expect from your chinchilla's gestation period and from the birth. Of course, you should still contact a specialized vet or a reputable breeder for more detailed information and for any help you might need.