Grey chinchillas are adorable.
They are wonderful pets to have in your home.
The grey chinchilla is the most common color of chinchilla.
But that does not mean it is less desirable.
Yes, some prefer more exotic colors. But gray has its definite advantages.
For one, they cost less. They are also easier to find.
My Chili is a gray chinchilla and she is amazing!
Keep reading to learn all about grey chinchillas. We will cover everything you need to know.
Grey Chinchillas
Grey chinchillas are wonderful pets, but they are not for everyone. You need to know what to expect if you decide to become a chinchilla owner, so that you can make sure you will be able to provide your new family member the care it needs.
Vital Facts
Grey chinchillas are incredibly social and do best in pairs. However, if you get a pair, they should be of the same sex and preferably, come from the same litter.
Grey chinchillas can live up to 20 years, so they require a lifelong commitment. They are also known for their teeth, which never stop growing. They will need plenty of chewing opportunities to prevent any dental problems. Hay helps, as do chew toys and apple sticks.
How Much Is A Grey Chinchilla
The first thing you need to know is the price. Grey chinchillas are mid-range priced pets, with the cost ranging from around $200 for a standard grey and up to $600 for a high-quality mutation grey.
Though the initial purchase may seem steep (but far less than beige chinchillas or other rarer colors), it is important not to compromise on the quality of your chinchilla. The cheapest options usually mean bad breeding practices, so you could get a sick pet.
You also want to make sure you budget not just for the initial purchase, but also for ongoing costs such as food, bedding, as well as other initial costs, like a large cage and all the cage accessories.
Caring For A Grey Chinchilla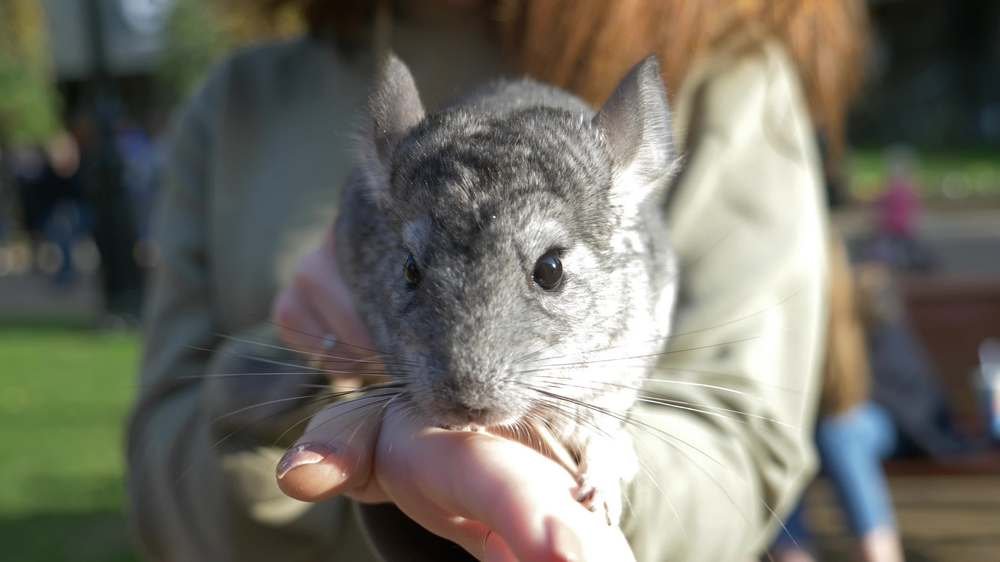 Gray chinchillas, like all colors of chinchillas, require a lot of attention and dedication. They need an hour a day of playtime outside the cage, especially if you only have one. They need socialization, and if there is no other chinchilla, they socialize with you.
They also have specific nutritional needs. you can not feed them food meant for other pet, or just a bunch of vegetables. They need specialized pellets and a lot of hay.
Chinchillas prefer large cages made either of wire mesh or powder-coated metal. They require bedding changed regularly, dust baths, and like healthy snacks like dried rosehips, apple sticks, or plain cereals.
Chinchillas may also need veterinary care, if they get sick. And again, they're highly social, so it is great to have more than one chinchilla to keep each other company.
Breed Options
You can get various types of grey chinchillas, including homozygous, heterozygous, and mutation grey chinchillas. The homozygous greys are those that have two copies of the grey mutation, while heterozygous grays have one. The mutation grays can be bred through generations of selective breeding to enhance certain traits like fur or size.
If your chinchilla has the heterozygous gene, then this means it has two different genes, usually a dominant and recessive gene. Only the dominant gene will show on your chinchilla.
If your chinchilla has the homozygous gene, then this means it either has two dominant or two recessive genes. If you purchase a standard grey chinchilla it will likely have been bred with two recessive genes.
Reputable Breeders
When adopting a grey chinchilla, it's important to understand where you're getting your pet from and how to care for them. Buying from a reputable breeder ensures you get a healthy chinchilla with the right documentation and records.
Getting to know the breeder's and the chinchilla's history ensures that you can identify any potential health issues early on. If you can't locate a reputable breeder, I would consider adopting from a shelter or rescue organization. They can provide healthy chinchillas, too.
Commitment
While grey Chinchillas are adorable pets, it is important to understand that caring for them requires a lot of commitment. They may not be as low-key as some other pets, but they are worth the time and effort required to keep them happy and healthy. And they are still a lot less work than a dog.
Grey chinchillas are social animals, so it's essential to give them adequate attention and care, so they can thrive. While some people may shy away from the costs and maintenance requirements of owning chinchillas, those who take the plunge and adopt never look back.
Grey Chinchilla: Final Thoughts
My chinchilla is a grey chinchilla. I originally wanted a black one, but could not find one in my area. I did not want to wait for an indefinite amount of time, so I settled for a grey one. Best decision ever!
My gray chinchilla is amazing and I love her to death. My whole family does. Sure, there are days when I struggle to clear the time to play with her, but once I get her out of the cage and into her playpen, being with her always relaxes me and helps me destress. Totally worth it!