In the wild, chinchillas need to be vigilant at all times.
They are prey and danger lurks all around.
They may be safe from predators in your home, but they don't know that.
Their instincts don't change and they remain on high alert.
As a result, they easily get anxious and agitated, which causes stress.
But prolonged stress in not good for them. So how do you calm a chinchilla down?
There are a number of things you can do to reduce anxiety and stress on your chinchilla and help keep it calm.
Keep reading for a list of 16 different things that will help calm your chinchilla. Many are things you should be doing anyway, so make sure you make the appropriate changes, if applicable.
How To Calm A Chinchilla Down
The first step to calming a chinchilla down is learning to recognize the signs of stress in a chinchilla. And when you notice that your pet is stressed, see if you can determine what is causing the stress.
That obviously makes it easier to immediately calm you pet by removing the source of stress. Then work on providing an environment that is as stress-free as possible going forward. That is the basis of chinchilla care.
Know The Signs Of Stress In Chinchillas
If you want to really help your chinchilla calm down when it is stressed or anxious, you need to first know the signs of stress and anxiety in chinchillas. The good thing is that chinchillas are pretty easy to read and will let you know when they are stressed.
An upset or agitated chinchilla might pace, hide, grind its teeth, or make screeching sounds. So, it shouldn't be too hard to figure out that your pet is unhappy.
Handle Your Chinchilla's Stress Right Away
If your chinchilla is stressed or anxious for long periods of time, it can have a negative impact on its health. Therefore, you must handle anxiety and stress right away, It is in your, and your chinchilla's, best interest.
If you see signs of anxiety in your chinchilla, assess the situation, try to determine the root cause, and take the steps to calm your pet down. If the stress is due to environmental factors, that may necessitate a change of location.
Change Its Cage Location
In their natural habitat, chinchillas spend a lot of time outdoors. But they spend the rest of the time in their burrows, tunnels, or crevices between rocks.
The safest place for a frightened or agitated chinchilla is in its enclosure. Even if your pet is inside its cage, it might still see or hear the dangers and predators outdoors, if you have its cage by the window or on the patio.
Being outside can be stressful for your chinchilla. So, bring your pet's cage indoors. If the cage is in a location where other pets are, that can also cause stress. Place it in a quiet, calm area away from noise, bright light, and other pets, especially ones that are natural predators.
Play Some Soothing Music Or White Noise
If your chinchilla is agitated due to loud fireworks or other disturbing noises, try playing some music to block those noises out. Remember, chinchillas are nocturnal animals, and they need to sleep during the day. Provide a quiet place for your pet to rest.
Check For Underlying Health Issues
Chinchillas can become distressed or anxious if they are suffering from some health-related problem. If your pet allows you to examine it, please check it for abscesses, wounds, splinters in the paw, overgrown teeth, or other external signs. If there are no external signs or issues that you can identify, it may be a good idea to see your vet.
Meet Its Basic Needs
If your chinchilla's basic needs are not met, it could become agitated and stressed. Here are some things your pet needs to feel calm and happy.
Provide a spacious and secure cage: Make sure the cage is large and spacious. It should also be secure and deter predators like your dog, cat, or other animals. It should have plenty of tunnels and hideouts for your pet to calm down when it is agitated or nervous.
Clean bedding: Chinchilla bedding tends to absorb odors and moisture, which can agitate your pet. Therefore, you need to change it every few days to prevent stress for your buddy.
Consistent temperature and optimum humidity: Your chinchilla could get agitated in extreme temperatures. Make sure the temperature and humidity are optimal. This post details ideal temp for chinchillas.
Fresh food and water: Stress and anxiety in chinchillas could also indicate dietary deficiencies. Provide a healthy and balanced diet of pellets, hay, and occasional treats to keep your pet happy
Clean living space: Chinchillas can get agitated if their cage is unhygienic or dirty. Schedule daily spot-cleaning and deep cleaning bi-monthly to provide a clean space for your pets.
Try Feeding It Some Treats
Sometimes chinchillas can get upset or agitated due to a lack of human interaction. Try making your pet feel reassured by feeding it some treats. Offer some dried flowers or plain cereal on your palm and see if your pet approaches you.
Observe its body language. If it appears nervous or continues to hide, then withdraw and try again after some time.
Adjust Your Behavior
Sometimes new chinchillas can get agitated due to being over-handled by humans. It is important to adjust your behavior and let your chinchilla be. Avoid putting your hand in its cage and give your chinchilla space.
If it is hiding, do not force it to come out of its hideout. Remember, chinchillas that aren't used to humans will need patient training and time to get used to being handled.
Wait For Your New Chinchilla To Initiate Contact
Allow your new pet some time to form a bond with you before interacting with it. Let it make the first contact instead of impatiently forcing it out of its hideout. This way, future handling will also go smoother.
Be Careful When Introducing New People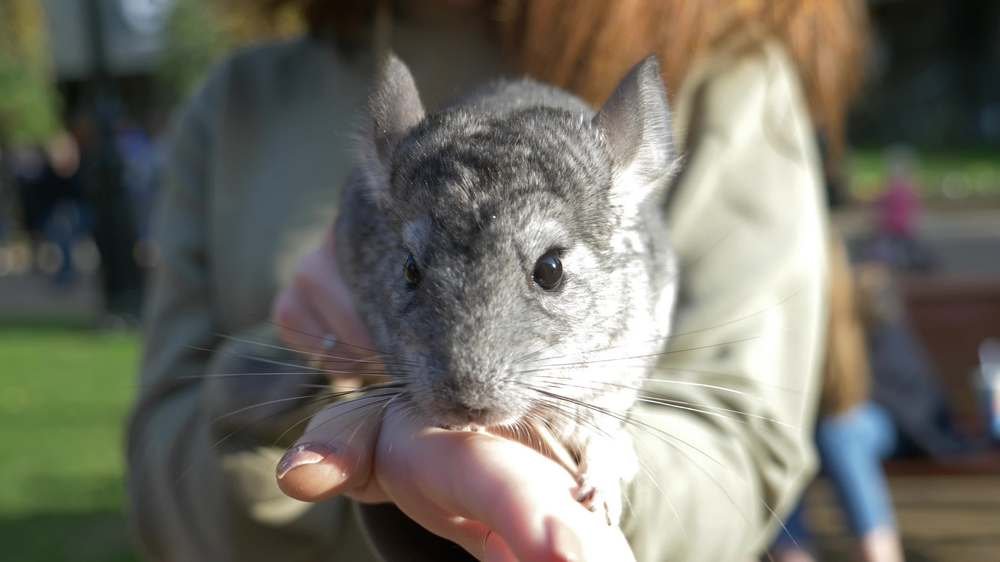 Perhaps you brought some friends over to meet your chinchilla, which may have stressed it. Chinchillas can be skittish when meeting new people. Avoid forcing your new chinchilla to meet your friends right away. Let it get used to your presence first.
Do not let the new person or people enter your chinchilla's space. Teach children to be quiet and respectful when they are near your chinchilla.
Never Corner Your Chinchilla
To make your chinchilla trust you, always give it space to run away. Do not corner or trap it. This will break the bond it has with you and may stress it out.
Be Calm And Gentle Around Your Pet
Chinchillas are sensitive creatures that can sense their humans' moods. If you are angry, agitated, or disturbed when handling your pet, it can sense that and get agitated too. Handle your pet gently and talk soothingly to it. Avoid handling your chinchilla when you are angry or stressed.
Provide It With More Playtime
Try letting your pet out of its cage more often. Provide it with a secure playpen where it can run, play, and expend some energy.
Exercise and playtime outside the cage are very important for your chinchilla. Make sure you let your pet out at least an hour per day in a secure area. Observe its body language. If it appears even more agitated, then you can put it back in its cage.
Give It More Toys
Provide your chinchilla with plenty of toys, such as a safe running wheel, hanging rope toys, perches, hammocks, and wooden chew blocks.
Your pet will be engaged in chewing, climbing, and perching and these activities will keep it engaged and mentally stimulated. Chew toys are also good for your pet's dental health. Keep rotating the toys to prevent boredom.
Stick To A Schedule
If your chinchilla is prone to anxiety or is nervous, try sticking to a daily schedule of feeding, playing, and cage cleaning. That way, your pet will know what to expect and will feel more comfortable and less anxious.
Avoid Making Unnecessary Changes
Once your chinchilla is used to a particular cage, diet, and schedule, avoid making any changes to them. Unnecessary changes can cause stress for your pet.
Remember: sights, sounds, and even strange smells can upset your pet. Only make changes that will benefit your chinchilla in some way.
How To Relax A Chinchilla: Final Thoughts
If you notice that your chinchilla is stressed, try to determine what is causing the stress. Then remove the source of stress, if possible. If you are not sure what is causing your pet to be agitated, go through the list above.
Implement all of the suggestions on how to calm a chinchilla down that are things you should be doing anyway, like putting the cage in a secure and peaceful spot. Continue to follow the advice, to keep your pet from getting stressed out in the first place.