Chinchillas are used to cold weather.
They have extremely dense (and soft!) fur that keeps them warm.
In fact, it keeps them so warm that hot temperatures are dangerous for them.
But temperatures that are too low are equally dangerous.
That's why you need to know how to keep chinchillas warm in winter.
So how low is too low?
Keep reading to find out. We'll cover the ideal temperature for a chinchilla and go over a bunch of ways to keep your furry little pet warm when the mercury drops.
How To Keep Chinchillas Warm In Winter
The ideal temperature range for a chinchilla is 60° to 74° F (16° to 23° C). They can survive in temperatures down to 32° F (0° C), but prolonged exposure to cold like that can cause them to get sick. You'll want to take steps to protect your pet from the cold. Here is what you can do.
Move Your Chinchilla's Cage To A Warmer Area
If you keep your chinchilla in the basement or outdoors (you should not keep them outdoors!), consider moving its cage into a heated room or a warmer part of your house during the winter months.
Basements tend to get chilly in the winter. Similarly, if you live in an area with freezing temperatures, it is important not to leave your chinchilla's cage outdoors, especially if you get snow or freezing rain. Again, you should really never leave put your chinchilla's cage outdoors, regardless of the weather.
Use Blankets to Cover Your Chinchilla's Cage
Blankets and cage covers are some of the easiest ways to keep your chinchilla warm. They prevent cold drafts from entering the cage. Make sure to use thin, light fleece blankets that are wide enough to go around the cage.
Steps
Place the blanket around your chinchilla's cage.
Make sure that the blanket does not block the airflow into the cage completely, because that could suffocate your little pet.
Provide Warm Water Bags with Covers
You can also provide warm water bags to warm up the chinchilla enclosure.
Steps
Place the bags over and around your chinchilla's cage so the heat can radiate and warm up the space.
You will need to refill these water bags with hot water every few hours.
Use Under-The-Cage Heating Mats Or Pads
This is another great way to keep chinchillas warm and cozy in freezing temperatures. It is also a reliable way to prevent temperature fluctuations that could harm your tiny pets. A heating pad is a great investment for your chinchilla's health and well-being.
Choose heating pads that are specially designed for small animal cages. Ideally, get one that comes with a temperature regulation switch.
Steps
Place the heating pad under your chinchilla's cage, around it, or inside it. Most chinchillas love sleeping on these warm pads.
Please follow the instructions provided by the manufacturer.
Block Drafts
Winter drafts around your chinchilla's cage will negate all other efforts to keep your pet warm. You need to block these drafts to keep your pet more comfortable.
If you live in an old or an ancestral home, then this step is of utmost importance to keep your chinchilla comfy.
Steps
Use super-thick curtains or physical barriers to block drafts from entering the cage.
If needed, add physical barriers like pillows around your chinchilla's enclosure to block drafts, without cutting the airflow completely.
Consider using multiple window treatments or multiple curtains for additional layers of protection from cold air drafts.
Caulk leaks and seal gaps in windows and doors.
Plant draft-blocking hedges around the house.
Avoid opening and closing your chinchilla's cage frequently.
Use Central Heating
If you don't already have it, consider using central heating for the entire house. This is an easy way to keep your chinchilla warm. If that is not possible, invest in a room heater. Choose an electric heater with a temperature regulation facility.
Important Note
Do not place the heater very close to your chinchilla's cage, and try to direct the hot air away from the cage. This is important to protect your pet from overheating.
Add Nesting Boxes And Hideouts Inside The Cage
Provide your chinchilla with plenty of nesting boxes and hideouts inside its enclosure. These not only help block cold air drafts but also provide a warm and cozy place for your chin to rest.
Steps
Cut out some openings in cardboard boxes. Make sure there are exit and entry points to prevent your chinchilla from feeling trapped.
You can also make tunnels using old pipes and wooden blocks. Just make sure there are no sharp edges on these.
Add some warm bedding or fleece blankets to these hideouts.
Provide Extra Bedding And Hammocks
You need not buy special bedding or change your chinchilla's bedding in the winter. Instead, simply provide extra bedding, i.e. more than the usual quantity, to your chinchilla. Your chinchilla might even pull some of the bedding back inside its hideouts to create a cozy nook.
Steps
You can opt for hay, shredded paper, wood pulp, etc. as bedding for your chinchilla's cage.
Some chinchillas love to sleep in hammocks for warmth. You can even add several hammocks on different levels of your chinchilla's enclosure.
Feed Your Pet a Nutritious Diet and Maintain an Exercise Schedule
Your chinchilla needs a nourishing diet to keep it warm and healthy in the winter months. After all, your pet has to burn extra energy to keep itself warm.
Steps
You can provide slightly more hay and pellets than you usually do.
Make sure that your chinchilla also exercises regularly in the winter months. This is important to prevent weight gain.
Let your pet have some out-of-cage playtime where it can run, play, and interact with humans and other chinchillas. This will keep your pets warm and happy.
What Temperature Is Too Cold For Chinchillas?
Chinchillas are native to the South American Andes region. The area is known for its varied temperatures: the southern Andes are rainy and cool, the central Andean area is dry, and the northern area is rainy and warm.
The average temperature in the region is around 18° C or 64° F. Therefore, chinchillas need a temperature range between 60° and 74° F (16° to 23° C) to feel comfortable.
If you live in an area with freezing temperatures in the winter, then you must take the above steps and precautions to keep your chinchilla warm.
While chinchillas can survive temperatures between 32° F and 60° F (0° to 16° C), you must take care to prevent your pet from getting too cold. Remember: temperatures under 32° F (0° C) could result in pneumonia and other respiratory problems in chinchillas.
Do Chinchillas Live In Cool Climates?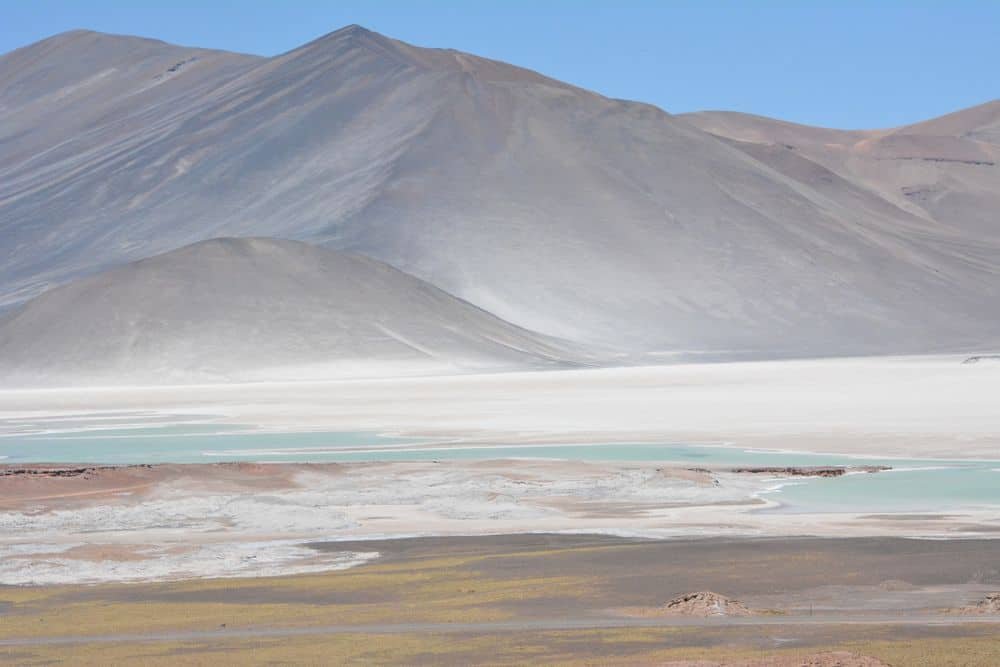 Yes, as mentioned above, chinchillas are native to the dry, arid climate of the Andes. They are used to cooler temperatures and have thick, soft fur to keep them warm.
Having said that, it is still important to keep your captive-bred chinchillas warm in the winter. They cannot withstand sub-zero temperatures and may suffer from health issues like respiratory troubles. The ideal temperature range for chinchillas is 60° F to 74° F (16° to 23° C).
Keep Chinchilla Warm In Winter: Final Thoughts
You should always keep the room temperature where your chinchilla is in the ideal range. Of course, in cold weather, this can be difficult, especially if you have a drafty house.
That is when you want to implement some of the tips above on how to keep chinchillas warm in winter. You want to make sure your furry little pet is nice and cozy. But not too hot. If you have that issue, we also have an article on keeping chinchillas cool without using A/C.