We don't know much about chinchillas in the wild.
For a number of reasons.
For one, there are not many of them left, since they are endangered.
They also live in remote areas, so there hasn't been much research conducted.
As a result, we do not know exactly what chinchillas eat in the wild.
But we do know some things.
Keep reading to learn everything we know about a chinchilla's diet in the wild. As you might expect, it is far more varied that their diet in captivity. It even includes some animal proteins.
What Do Chinchillas Eat In The Wild?
Chinchillas are omnivores in their natural habitats, which means they rely on both plants and meat for survival. But they primarily eat grass, hay, wild berries, nuts, roots, twigs, stems, and tree bark.
They also eat succulent plants that may be available in their natural habitats, like Astephanus geminiflorus, Cistanthe (Calandrinia) Grandiflora, and Pleurophora pusilla.
In the absence of the above foods, they may also eat meat, mainly tiny insects and bugs. Occasionally, they eat bird eggs and small frogs, but these are less common than bugs and insects.
How Do Chinchillas Get Their Food In The Wild?
A wild Chinchilla's diet in the wild is varied. Mostly, they consume 20 to 40 different species of grasses and succulents. We can break down their diet into the following parts.
Grass, Hay, Plants, And Succulents
Chinchillas need a lot of fiber for roughage, which they mainly get from eating fresh grass and hay. On a daily basis, they need between 15 to 35% fiber.
Fiber helps in digestion and also grinds down a chinchilla's constantly growing teeth. In fact, these primarily vegetarian animals chew on grass all day (when available) to wear down their sharp chompers. This helps avoid tooth problems, like malocclusion.
In the absence of grass, they may chew on hard tree barks, nuts, twigs, stems, and roots that are locally available.
Chinchillas eat grass varieties such as Nasella chilensis and Stipa chrysophylla, which are native to the Chilean Andes, the primary home of wild chinchilla populations.
You must not forget that chinchillas are native to the rocky Andes mountains where vegetation is sparse. Naturally, a chin has to be flexible and cannot just depend on grass to fulfill its dietary requirements.
They may also have to eat other kinds of vegetation available in the harsh environment. This includes bushes and shrubs like Bridgesia incisifolia.
In some parts of the Andes, they survive on lichens and mosses that grow on rocks and barks of trees. Grasses like festuca are perennials and help meet the dietary needs of chinchillas all year round.
The vegetation in the Andes shows a lot of variation based on the complex topography and climate differences.
Several cactus species are found in this primarily dry and arid region, so a chin may even rely on succulents like Puya berteroniana for meeting its dietary requirements. Cacti also trap leaves and bugs that wild chins may eat.
Succulents like aloe are found in several parts of the Chilean Andes. However, chinchillas do not eat aloe regularly and only do so to satisfy their thirst.
Chinchillas in the Amazon region of South America are known to eat cacti, grasses, wild berries, and the hard bark of trees available in the region.
The long-tailed chinchilla varieties found in cold and arid regions of Chilean mountains primarily depend on grasses, mosses, and lichens to fulfill their dietary needs.
Mountain Viscachas which are closely related to Chinchillas and found in Central Peru and Argentina depend on moss, grass, and lichens that grow on the sparsely vegetated rocky cliffs, outcrops, and slopes.
Insects And Other Animal Protein
Chinchillas need 16 to 20% of protein daily. In the wild, they acquire protein from grass and small animal meat, mainly bugs. Insects and bugs such as moths and grasshoppers also provide chinchillas with omega fats, chitin, vitamin B12, iron, and folic acid.
Long-tailed chins are known to feast upon insects, moths, and bird eggs. They are resourceful creatures that come out in the evening or at night to search for food.
They even go to extraordinary lengths to reach bird nests. Once they come across eggs, they use their sharp incisors to crack them open and lick the contents.
In the warmer months, chinchillas eat grasshoppers, moths, and other small bugs available locally.
This shows us that although they are primarily vegetarians, wild chinchillas are actually omnivores, and often have to eat animal-based food to survive.
Based on this knowledge, many vets recommend feeding captive chinchillas small amounts of animal protein, like fish meal and dried mealworm larvae.
Fruits, Flowers, And Shrubs
Wild chinchillas get most of their vitamins and minerals from their natural diet. Vitamin C is crucial for these animals to prevent scurvy. They get most of it from grass, wild berries, flowers, stems, roots, succulents, and occasional cacti fruits when they are in season.
Bridgesia incisifolia is a woody shrub found in Chile. It has been found extensively in the feces of wild chinchillas and provides these rodents with plenty of calcium and phosphorus.
Some flowers are fine to eat, but not ideal. For example, chinchillas can eat dandelion flowers, but they are much better off eating the leaves (especially dried) instead.
Nuts And Seeds
Wild chinchillas get their omega essential fatty acids from wild nuts and seeds. They may eat sunflower seeds and seeds of other flowering trees available locally. For pet chinchillas, it is best to avoid nuts and seeds, because they are very high in fat.
If you want to, you can feed your chinchilla pumpkin seeds or sunflower seeds as an occasional treat, but on give them a seed or two, at the most.
The same goes for nuts. Chinchillas can have nuts, but only one (or two, if they are small), once or twice a week.
Morning Dew
Chinchillas have adapted to the dry climate and do not need much water. Most of their water requirements are satisfied by the morning dew which accumulates on rocks, grass blades, and tree barks.
They may also eat succulents like aloe from time to time to quench their thirst. Wild berries and flowers also provide them with sweet juice and nectar.
Chinchilla Diet In The Wild: Related Questions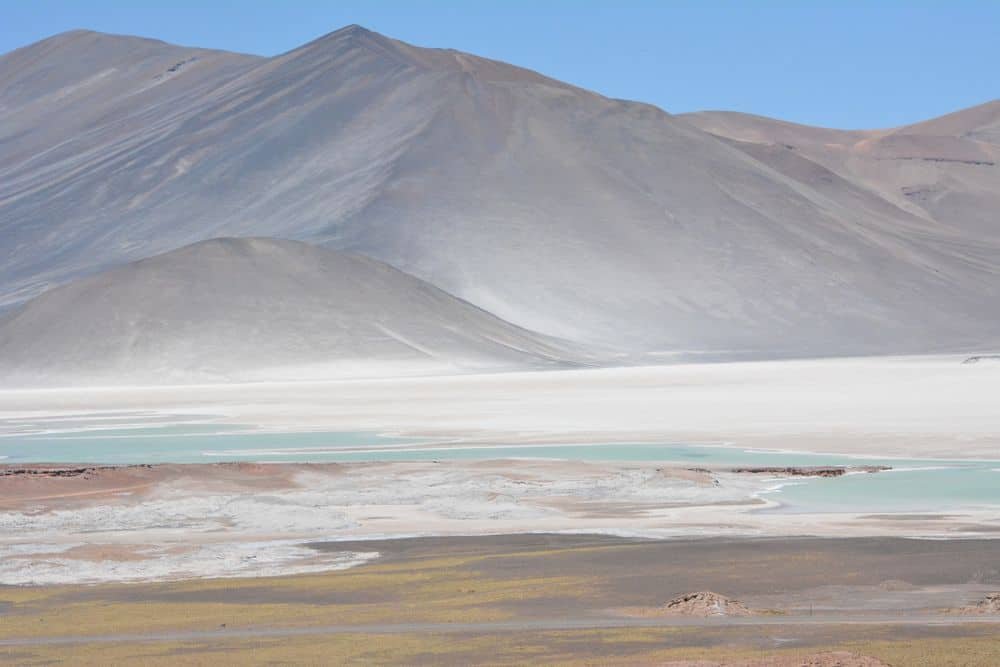 Below, I'll answer some common questions having to do with a chinchilla's diet in the wild. If you have additional questions, please feel free to ask them in the comments below.
What Is A Chinchilla's Favorite Food?
Chinchillas love grass and hay. In the wild, where food is scarce, they may eat the bark of trees, succulents, twigs, stems, roots, wild berries, nuts, seeds, grasses, mosses, and lichens. Occasionally, they may eat bugs, insects, and bird eggs.
Do Chinchillas Eat Their Poop?
Yes. Chinchillas can engage in coprophagy. Why do chinchillas eat their own poop? It is a behavioral chinchilla adaptation that allows them to regain lost nutrients. When they eat, food passes through the stomach and small intestine into the cecum.
The cecum contains friendly bacteria that help break down grass and other foods, enriching them in the process. However, this enriched food is passed out through the feces. In order to get back the lost nutrients, chinchillas may eat their own poop.
How Long Do Wild Chinchillas Live?
Wild chinchillas can live for up to 10 years. In captivity, when well-taken care of, they live much longer – almost 20 years.
How Long Can Chinchillas Go Without Food?
Chinchillas in the wild primarily eat at dawn or dusk, since they are crepuscular animals. They may also eat during the nighttime. In between, they rest. Most chins are able to survive for 8 to 12 hours without food.
What Chinchillas Eat In The Wild: Final Thoughts
Chinchillas in the wild eat a much more varied diet than those in captivity. That makes sense, of course. In the wild, food is scarce. They eat whatever they can find.
That includes various grasses, wild berries, nuts, roots, twigs, stems, tree bark, succulents and even insects or eggs. If they find it and it is edible, they will eat it.
In captivity, they eat primarily hay and specially designed pellets for chinchillas. At least that's all they should eat, apart from the occasional treat. Quality hay and pellets contain all the nutrition they need.