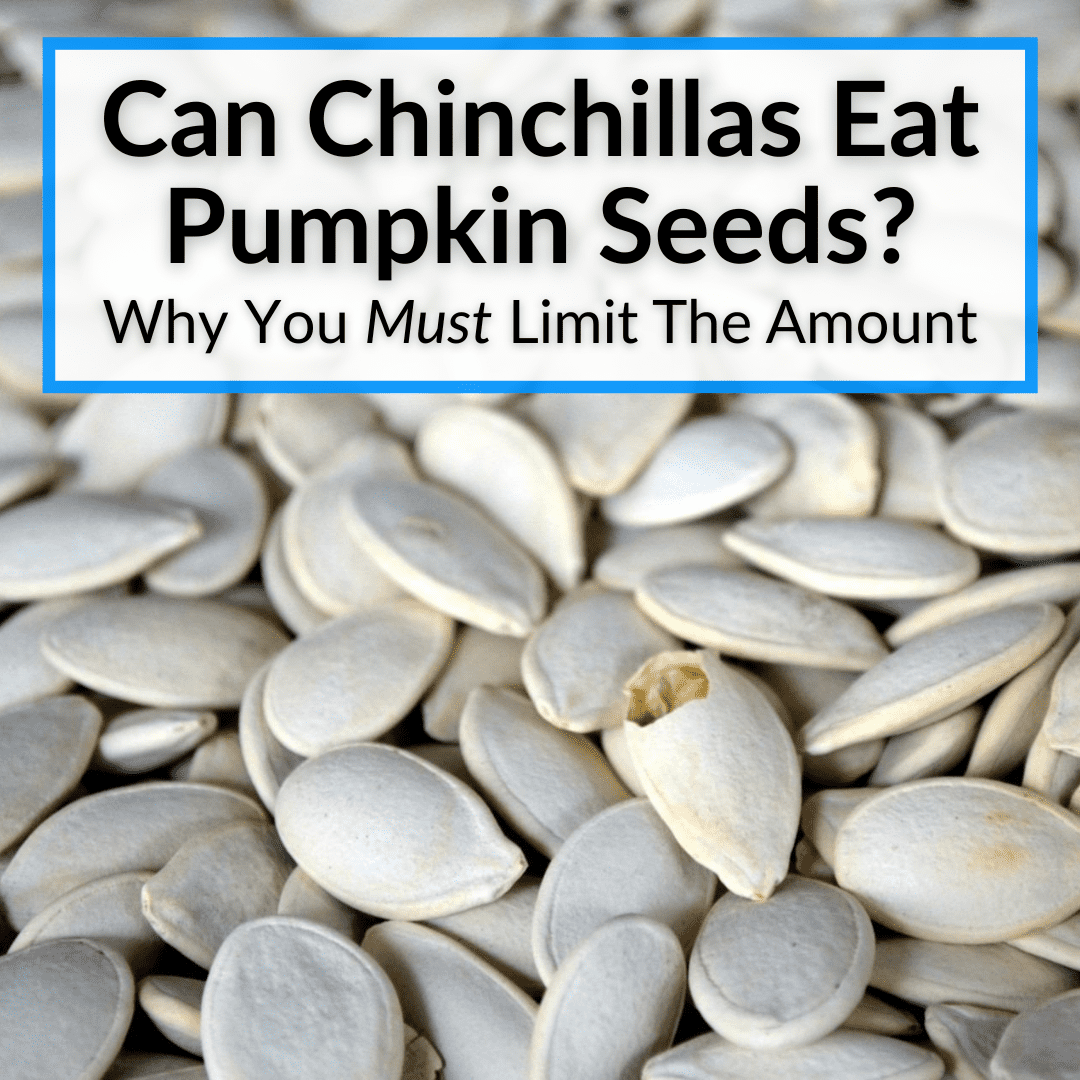 Pumpkin seeds are becoming a bit of a fad these days.
They contain a lot of healthy vitamins and minerals, and many people like to add them to salads or other recipes.
The key word in that sentence is people.
The seeds might be good for us, but what about our furry little pets?
Can chinchillas eat pumpkin seeds, too? And are they just as healthy for them?
The truth is: there is a big problem with pumpkin seeds for chinchillas.
Keep reading to learn what that problem is, plus everything else you need to know about feeding your chinchilla pumpkin seeds.
Can Chinchillas Eat Pumpkin Seeds?
Yes, they can but only in small amounts. The seeds contain a lot of fat and sodium. Both can negatively impact a chinchilla's health, if they get too much of them.
Have you ever eaten pumpkin seeds? If you live in the US, you've definitely seen them. We all had to make Jack O'lanterns when we were kids, so you undoubtedly noticed the white seeds when digging the slimy orange flash out of the pumpkin.
In many households, mine included, we set the seeds aside, washed them, and then roasted them with some salt. They tasted pretty good, although not everyone likes them. They are apparently quite healthy, too. At least for humans.
Are Pumpkin Seeds Healthy For Chinchillas?
Whether you like the taste and texture or not, pumpkin seeds are beneficial for your health and a recommended source of various minerals.
As a result, more and more people are experimenting with pumpkin seeds by adding them to dishes like salads. As mentioned, you can also eat them after roasting them. Some people even prefer to eat them raw, because they provide the most nutritional benefits that way.
However, while pumpkin seeds are great for humans, that's not the case for small rodents like chinchillas.
Because chinchillas have sensitive digestive systems and smaller bodies, pumpkin seeds are not a good option for feeding these tiny, furry creatures. They can only handle small amounts of the salt and fat in the seeds.
It is always best to feed your chinchilla a simple diet of hay and food pellets. That combination gives them all the nutrition they need and nothing extra that could be harmful (like salt or fat).
But if you wish to give your chinchilla pumpkin seeds as an occasional treat, that is fine. As long as you limit how many seeds it gets, as is the case with most human food for chinchillas.
How Many Pumpkin Seeds Can Chinchillas Eat?
Pumpkin seeds are both high in salts and fats. Chinchillas generally require very low amounts of sodium, and not a lot of fat either.
While you can feed pumpkin seeds, there are much better treat options to give your chinchilla. But if you really want to feed your chinchilla pumpkin seeds, make sure you feed them in very careful and calculated amounts.
Pumpkin seeds can contain up to 500 milligrams of fat per ounce of seeds. This is approximately half the amount that a chinchilla should be consuming per day on average.
For that reason, limit your chinchilla to a single seed at a time. And only give them a seed once or twice a week. Better to be safe that sorry.
If you're feeding these little creatures a bit more than they can chew (quite literally), that could give rise to many health problems  Your chinchilla will also likely start gaining weight if you feed it pumpkin seeds frequently.
That said, pumpkin seeds are actually quite healthy, apart from the fat and salt. They contain a lot of beneficial vitamins and minerals.
Benefits Of Eating Pumpkin Seeds For Chinchillas
The nutritional profile of pumpkin seeds is actually quite good for chinchillas. They are a great protein source and contain minerals like magnesium, copper, amino acids, iron, zinc, potassium, and phosphorous. They also contain B-vitamins and Vitamin K.
If you feed your chinchilla pumpkin seeds in appropriate amounts and small doses, the minerals and vitamins can be quite beneficial. As mentioned, you need to limit pumpkin seeds to very small doses. Otherwise, they can do more harm than good.
Pumpkin seeds should never make up more than two percent of a chinchilla's daily food intake. Anything more than that can cause serious health concerns.
Risks Of Eating Pumpkin Seeds For Chinchillas
There are a few risks associated with chinchillas eating more pumpkin seeds than they should. As mentioned, these seeds are rich in salts and fats. Excess sodium consumption is a problem for any creature and always increases the risk of numerous health problems.
One ounce of pumpkin seed contains approximately 5 milligrams of sodium. That is not a huge amount, but chinchillas really can't handle salt at all. You need to make sure you're only feeding a fraction of that amount.
The average salt consumption for a chinchilla is roughly half the amount of one pumpkin seed, so it's best if you feed them accordingly.
The other risk associated with feeding pumpkin seeds to a chinchilla is the amount of fat in the seeds.
While the amount of fat and sodium present in one pumpkin seed is close to nothing for human beings, it can be a lot for chinchillas, because their digestive systems are not equipped to handle them. The fat can lead to digestive problems and eventually make your pet fat.
Can Chinchillas Eat Pumpkins?
Pumpkins generally have a higher acidic content, a good amount of phosphorous, and a bit of calcium. The acidic content of the pumpkin can be very bad for the chinchilla. It can lead to serious health problems like stomach aches, due to the chinchilla's delicate digestive systems.
As with the seeds, a small amount of pumpkin is ok, but it is still not recommended. In fact, many vegetables that are good for us are not so good for chinchillas.
What Kind Of Seeds Can Chinchillas Have?
All seeds are high in fat, so chinchillas should not eat any of them in large amounts. In the wild, they will happily eat a bunch of seeds if they find some, but that's because they don't know how bad they are for them.
If you want to give your chinchilla some seeds as an occasional treat, that is fine. Just make sure to limit how much you give it. When it comes to seeds, sunflower seeds are better for your chinchilla than pumpkin seeds.
This is mainly because they are smaller. Both types are rich in nutrients and beneficial for your pet chinchilla. But both contain a lot of fat. Sunflower seeds don't have as much sodium, though.
Seeds which are actually grains are a good alternative. Chinchillas can eat millet, for example. It is healthy and tasty. The one issue with millet is that it also has a lot of fat, but it has far less than seeds.
What Foods Are Poisonous To Chinchillas?
There are certain foods that you must not feed your pet chinchilla because they can cause serious health concerns.
Asparagus, peas, lettuce, avocado, spinach, cabbage, corn, rhubarb leaves, and broccoli are a few foods you must refrain from feeding your pet chinchilla, because they can cause it to get seriously ill.
You need to be extra careful when giving pet chinchillas any food, since they have such sensitive digestive systems. For that reason, I recommend that you don't experiment with their diet and just stick to the basics of pellets and hay with the occasional treat. Don't incorporate anything else into your pet's diet, unless it is something your veterinarian has suggested.
Chinchillas Can Eat Pumpkin Seeds: Final Thoughts
Chinchillas can eat pumpkin seeds. In fact, they contain a number of important vitamins and minerals. But they also contain sodium and fat, both of which chinchillas do not digest well.
As a result, you should limit the amount of pumpkin seeds you feed your pet. Stick to a single seed once or twice a week. The majority of the diet should always consist of hay and food pellets. Anything else, like pumpkin seeds, should be an occasional treat only. And to be honest, there are far better treat options out there, like rose hips or oats.