We all want our pets to like us.
But is that even possible with a rodent like the chinchilla?
Are they capable of fondness toward other living being, especially one so different as us humans?
They are. But it will take some work on your part.
Not hard work. You just need some time and patience and you need t know how to get a chinchilla to like you.
We will help you with that last part. You'll have to supply the patience and time yourself.
Keep reading to learn what you can do to get your chinchilla to like you. We will also give you a few signs to look for that indicate a chinchilla likes you.
How To Get A Chinchilla To Like You
Getting your chinchilla to like you is not difficult. As mentioned, it just takes time and patience. The following 8 tips will help you build trust with your pet and get it to fall in love with you.
Spend Time With Your Pet
Spending more time with your chinchilla will help you win its affection, once it is accustomed to being handled and has gained some level of trust in you.
Take your chinchilla out of its enclosure and let it sit on your lap. Remember that some chinchillas are quite skittish and might not like being handled too much.
If that is the case, take a step back. Let your pet go back into its hideout or nesting area. Simply try again the next day and continue trying every day.
Make an effort to let your pet out every day for some play and interaction. Slowly but surely, your chinchilla will become used to you, gain trust in you, and start to feel more relaxed around you. Soon you will see your chinchilla play happily all over you!
Hand Feed It Some Tasty Treats
The best way to gain your chinchilla's trust is by hand-feeding it some high-value treats. Choose something long, like a slice of apple, that you can dangle in front of your pet.
You can be sure that your chinchilla will come and grab it. Your chinchilla will begin to like you once it realizes that "your hand" can provide it with tasty treats. Just make sure you do not let it eat the entire slice of apple. Chinchillas can only have a tiny bit of apple.
After your pet is comfortable eating longer snacks from your hand, you can switch to hand-feeding high-value, irresistible snacks, such as tiny pieces of dried fruits, sultanas, raisins, goji berries, calendula, and sprigs of Timothy hay.
No chinchilla can resist these snacks, and they are a surefire way to build a strong bond with your pet. Once your pet is used to being hand-fed, it will come to you willingly. This is a great sign that it likes you.
Just be mindful of how many treats you give out. These small animals can easily pack on the pounds!
Give Your Chinchilla Lots Of Attention
Giving your chinchilla your attention is the best way to get it used to you and to like you. Daily interaction with your chinchilla will help it understand that you are friendly and trustworthy and that you mean no harm.
In addition to hand-feeding, interacting also involves playing with your chinchilla. You can let your pet out of its cage in a safe enclosure, like a play tent, and join it (or just observe it) while it plays with its toys.
You can also try to stop by its cage several times a day and speak to it or put your hand inside the cage. Your chin will surely enjoy that attention. If not right away, soon.
Be Gentle While Handling Your Chinchilla
Never handle your chinchilla roughly. Children, in particular, need to be taught how to treat these delicate pets with care. Pick up your pet securely by its tail and hold it close to your torso.
Check out our guide on how to hold a chinchilla without harming or scaring it. Once your pet is ready to go back into the cage, do so securely without dropping it.
Talk To It Soothingly
By speaking softly to your chinchilla, it will get used to your voice. You can sing to it or even tell it all about your day!
Never raise your voice or shout at your little pet. Instead, use certain sounds, like a kissing sound or a gentle snapping of your fingers, when feeding it treats.
Your pet will learn to see those sounds as a cue that treats are on the way and respond accordingly.
Maintain A Routine
Maintaining a schedule or routine for playing, feeding, and interacting with your chinchilla will also help build a bond of trust between you.
By feeding your pet at the same time every day and cleaning its cage t the same time, followed by a little treat, you will help your pet anticipate your visit at those times.
For example, you can spot-clean your pet's cage before its morning feed. You will then definitely hear your chinchilla getting excited afterward, as you prepare its food.
Give It A Friend
Chinchillas are social creatures that need the company of their kind. If you get a friend for your furry pal, it will appreciate you even more. A well-bonded chinchilla pair will be happier than a lone chin. They will be less likely to be timid or shy.
Give It Time
Chinchillas are naturally skittish and nervous. They tend to take time to bond with their owners. Sometimes, it could take months for your chinchilla to start liking and trusting you. Persevere and be patient, and soon your little pet will love you!
Getting A Chinchilla To Like You: Additional Tips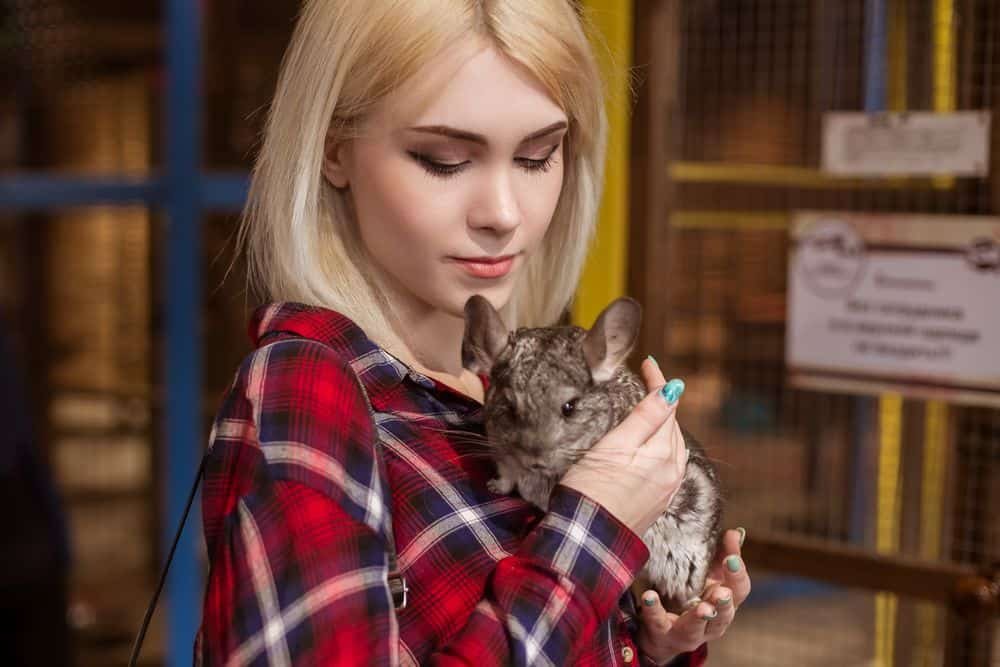 To get a chinchilla to like you, you need to first build trust. Here are some tips on building trust and forming a bond with your chinchilla, followed by signs to look for that indicate your pet likes you.
How Do You Build Trust With A Chinchilla?
Some chinchillas take time to open up to their owners and bond with them. Here are some things you can do to speed up the trust-building process.
Spend time together in close proximity: This is one of the greatest techniques to get your chinchilla to trust you. It can be in a laundry room or in a tub with the glass doors closed or in a play tent (my preference). Just make sure it is safe. Your pet might get scared at first, but once it knows you mean no harm, it will start trusting you.
Talk to it soothingly: Let your pet get used to the sound of your voice.
Do not coax it or force it to come to you: Merely allow it to get used to your presence.
Use treats: Hand-feeding your chinchilla treats is the best way to get it to trust and like you.
Don't handle or touch it too much: Chinchillas don't really like being handled. If you open your pet's cage to clean it, do not touch your chinchilla unless necessary. Over-handling might make your pet associate you with discomfort.
Provide it with a quiet and peaceful atmosphere: That means keeping loud people, especially children, away from it. At the start of its transition to its new environment, provide it with a quiet atmosphere. Too much noise is likely to scare your timid pet.
Spend time interacting with it: Once your chinchilla is used to you, you can let it out for some daily interaction. This will strengthen the bond of trust between you.
How Do You Know If A Chinchilla Likes You?
Chinchillas recognize their owners and often show signs of affection. Here are some signs that your chin is fond of you.
Your chinchilla gets excited when you're nearby. It recognizes your scent and, since you feed it, it knows treats are around. It might come up to the walls of its cage or enclosure to greet you.
It might willingly jump into your open palms when you place your hands in its cage
Your pet will be relaxed and its body language won't show any signs of nervousness or anxiousness.
Your furry friend will gladly sit in your lap and eat from your hands.
Your chinchilla may popcorn. This adorable behavior involves jumping around like a kernel or corn popping in a hot pan.
Do Chinchillas Like To Be Petted?
If you know how and where to pet a chinchilla, they can come to enjoy it. But it does take time to get to that point.
Chinchillas usually do not like being handled too much. They also take time to bond with their owners. Some chinchillas might even require training before they come to you and agree to be held.
Always observe your chinchilla's body language. If it appears stressed or nervous or seems anxious to go back into its cage or nesting area, please allow it to do so.
How To Make A Chinchilla Like You: Final Thoughts
If you know how to get a chinchilla to like you, it is not a hard process. But it will take some time and patience. Implement the tips we gave you above and you will have your chin eating out of the palm of your hand in no time. Perhaps even literally!
That said, it is important to understand that every chinchilla is different. Some will come to trust and grow fond of you quickly. Others will take much longer. Some may have suffered previous trauma and will never fully be able to trust you. Whatever the case may be with your pet, just make sure you show it plenty of love and affection and, above all, be patient with your little furball!