Malocclusion sounds horrible.
For good reason. It is horrible.
Malocclusion in chinchillas can cause these adorable little furballs immeasurable pain and suffering.
It can even kill them.
The good news is that you can take steps to prevent it. And they are easy steps that every chin owner should be taking anyway.
So what exactly is this horrible affliction? And what can you do to prevent it?
Keep reading to learn everything you need to know about chinchilla malocclusion. What you read here may save your chinchilla's life.
Malocclusion In Chinchillas
Let's begin by talking about what malocclusion actually is and how it starts. Then we'll cover how to recognize it and what to do about it. Finally we'll show you how to prevent it, which is really the best way to deal with this chinchilla health issue.
What Is Chinchilla Malocclusion?
Malocclusion is a dental condition in chinchillas, in which their teeth start to grow too long and sometimes even grow in different directions. In broader terms it is a way to describe crooked teeth and can occur in all mammals.
But it is a more serious condition for smaller animals. The chinchilla is a part of the rodent family, and as such, their teeth never stop growing. They can grow 2 to 3 inches every year, which is why malocclusion is a common problem.
This condition can cause problems with a chinchilla's gums, especially if the teeth start growing into them. If not treated, malocclusion can even be fatal.
Causes Of Chinchilla Malocclusion
There are a variety of different causes of malocclusion. The majority are polygenic traits, which is a fancy way of saying it's down to a chinchilla's physical attributes. These include head shape, rate of growth, and the ability to absorb nutrients.
A common cause is calcium deficiency. The good news is that you can treat this in the early stages of malocclusion. Simply give your pet calcium supplements, which should improve the dental condition.
Another cause can be as simple as your chinchilla injuring itself. If your chinchilla experiences a facial injury or breaks a tooth, it may be more likely to develop malocclusion. If its face becomes swollen, it can lead to the teeth becoming uneven, eventually resulting in malocclusion.
Symptoms Of Malocclusion
Symptoms of malocclusion are usually weight loss, a change in chewing patterns or a change in food preferences. In my opinion, the easiest symptom for you to look out for would be weight loss.
It is easier to spot. Of course, weight loss can be caused by many other conditions. But you should be able to confirm it is due to malocclusion by checking the teeth, or just taking your pet to the vet.
Once the malocclusion has developed, more advanced symptoms start. These include drooling, weeping eyes, a wet chin, and even loss of fur.
If you start to see these symptoms with your chinchilla, then the condition has become extremely serious. You need to get it to a vet as soon as possible.
Consequences Of Malocclusion
The worst consequence that can arise from malocclusion is death. This health condition is an extremely serious one and needs to be treated as early as possibly. If you don't catch malocclusion in its early stages, there is a high chance it can become fatal.
Even if you notice just the smallest thing wrong with your chinchilla, whether it have lost a little weight, or it isn't as keen on its foods as it used to be, then it's always best to get it checked out. As the saying goes, better safe than sorry!
Other consequences of malocclusion can involve the teeth growing backwards, and in some cases, they can even grow into the eye socket or nasal cavity. If left untreated, this can have some very serious consequences for your chinchilla. And once again, the ultimate consequence of this can be death.
Remedies
In the early stages of malocclusion, there are treatment options available. For example, feeding your chinchilla hay, or any other woody foods to nibble on, like twigs, can help with malocclusion.
This is a great way to look after their teeth, because the hay will grind down their molars and keep them from growing too long, and eventually, growing into each other.
Another remedy is for your chinchilla to repeatedly have its teeth trimmed during its lifetime. However, for this to happen, your chinchilla would have to be put under anaesthesia every time. This can become quite costly and is also uncomfortable for your chinchilla. Not to mention, it is risky for its health.
If you suspect your chinchilla's malocclusion has come from its diet, you should look into altering it, to ensure your chin gets all the nutrients it needs. For example, if the malocclusion has come from a calcium deficiency, you can rectify this with special chinchilla pellets that contain calcium.
In general, the best remedy for beginning malocclusion is to feed your chinchilla foods like hay and twigs. Even better, do this before it ever even starts. It is the best preventative measure, it is cost effective, and it doubles as a great treat for your pet.
It is also worth noting that once the malocclusion becomes too advanced, there is no remedy. It will only become worse. The best thing you can do is to try and prevent the condition by providing your pet a healthy and nutritious diet.
How To Prevent Malocclusion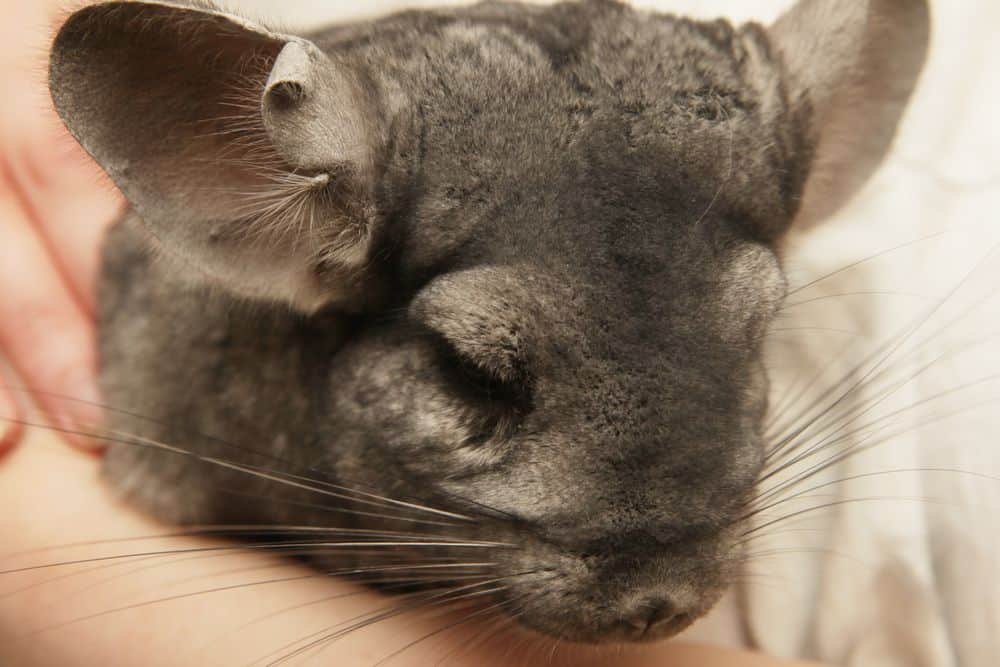 You can prevent malocclusion by providing your chinchilla with chew toys, which are available in the majority of pet stores. These usually come in the form of applewood sticks. The wood is the perfect density for a chinchilla's teeth and also makes a tasty treat for them!
Another way is to book your chinchilla for yearly or bi-annual x-rays with your vet. This is the most reliable way to catch malocclusion before it becomes a serious condition and threatens your chinchilla's life.
The x-rays pick up anything you won't be able to catch with your eye and although they may work out to be an expensive check up, they are the best way to pick up on the condition.
Similar to it being the best remedy, I think the best preventative method is also through your chinchilla's foods. There are plenty of foods your chinchilla can nibble on to ensure its teeth do not become a major issue.
You can swap between hay, applewood sticks, and even grape vines! There's no doubt your chinchilla will love the variation. Simply put these foods in the cage and replace as needed.
Personally, I use Timothy hay cubes and apple sticks. This article on chinchilla chewing has links to several great chew toys, including the apple sticks and hay cubes I use.
Chinchilla Malocclusion: Final Thoughts
Malocclusion in chinchillas is a serious issue. And, unfortunately, it is also a common one. The good news is that you can take steps to prevent it and ensure your pet never has to suffer.
The key is to make sure your pet always has things to chew on that will keep its teeth filed down. If the teeth are never allowed to grow too long, the risk of malocclusion is minimized. As mentioned, apple sticks and hay cubes are great for this.
In the case of malocclusion, prevention is always better than the cure! And adopting the simple preventative methods listed above may just save your chinchilla's life.