You want your chinchilla to be happy and healthy, don't you?
Then you need to spend some time with, and for, him or her.
Taking care of a chinchilla is easier than most animals, but they do need daily interaction with you.
And they need a nice, clean cage.
A filthy cage can lead to all sorts of health issues.
But how often should you clean a chinchilla cage to ensure your pet stays healthy and happy? And how do you do it correctly?
Keep reading to find out, plus everything else you need to know about cleaning your chin's cage.
How Often Should You Clean A Chinchilla Cage?
Chinchilla cages need to be cleaned fully at least once per week. This includes changing the bedding and washing water bottles and food bowls. Additionally, you need to sweep (or vacuum) the cage out daily for poop and discarded hay.
That's the quick answer. But there's a lot more to cleaning a chinchilla cage than that. A proper chinchilla cage cleaning requires several steps to ensure nothing is left out.
I want to take the time to go over the full cage cleaning process from start to finish. I want you to have a chinchilla that never smells and is living in a safe and clean environment.
Lastly, I want to touch on some of the chinchilla cages I recommend, cages that are inexpensive, include everything your pet needs, and are easy to clean.
😕Adopting and caring for a new chinchilla can be intimidating and confusing. It does not have to be so do not let it be.
Be sure to check out my full digital eBook "Avoiding Critical Mistakes Ultimate Chinchilla Care eBook" to have the best advice, tips, and tricks and supply recommendations to make adopting and caring for a chinchilla much more comfortable and easier to understand.
You can learn more about this eBook offer using the link directly below.
Learn more here:👉 Avoiding Critical Mistakes Ultimate Chinchilla Care eBook Offer
Cleaning A Chinchilla Cage
As mentioned before, you need to clean your chinchilla cage at least once a week. This is the bare minimum.
The more the better. And the better the job you do and the more often you do it, the easier it will be the next time you clean the cage.
You can turn an easy and fast task into a daunting task, if you don't stay diligent and consistent with cleaning your chinchilla cage.
No need to let it get to this point. I personally clean my chinchilla cage daily, but I would not consider this a deep clean by any means.
I sweep all poop off the shelves. I check the hay feeder and re-arrange my chinchilla's favorite toys back neatly onto the shelves.
As far as the bedding or shavings, I clean these once or twice per week depending on what it looks like. I now use fleece liners instead of bedding which makes the task way easier (more on this shortly).
Chinchillas do pee (obviously) which is the one situation where you may eventually have an odor emitting from your chinchilla or the cage. Especially if you wait too long in between your cage cleanings.
I'm currently working on potty training my chinchilla to help with this situation. So far, this is an ongoing learning process that we are working on together. For more on this, use the link above to learn about the process of potty training.
You can also view my post on the best chinchilla litter to use here. I also have a post on the best chinchilla litter pans you can view here.
Finally, I have this post about the best chinchilla toys you can buy for your chinchilla's cage.
Chinchilla Cage Cleaning Checklist
Cleaning a chinchilla cage the right way is not overly difficult. It is really just a matter of removing poop, bedding, and other chewed items in the cage, and ensuring you wipe down all surfaces.
Cleaning your chinchilla cage is essential and, luckily, relatively easy to handle in a matter of minutes.
Here's each component of the cage and what needs to be completed every time you clean your chinchilla cage.
Make sure that every item on this list is wiped down and cleaned to complete the cleaning process effectively.
Bedding: discard shavings or wash fleece liners twice a week
Trays: wipe down all trays with vinegar and water
Water Bottle: wash bottle with soap and hot water; check for clogs
Food Bowls: clean well
Shelves and ledges: wipe down
Nesting Boxes: lift and discard debris and wipe down
Cage Bars: wipe down
Toys: wipe down and check for chewing and other hazards
I have also shot a video of me cleaning my chinchilla cage, in case you prefer to learn the process in this manner.
Video Breaking Down The Chinchilla Cage Cleaning Process
I also have another short video discussing how easy, yet imperative, it is to keep up on the cage cleanings.
Now that we have that out of the way, let's keep rolling along and get into some more details. We'll start with some recommendations for easy-to-clean cages, then dive into the cleaning of each component.
Easy-To-Clean Chinchilla Cages
In case you were wondering, you do have options for chinchilla cages that can make the cleaning process even easier, while providing your chinchilla an optimal home with optimal space.
The Critter Nation 2 Dual Level Cage is by far the best chinchilla cage you can buy and remains my number 1 recommended cage. It is the cage I now use myself.
It is extremely easy to use, has 4 total door openings making the cleaning easier, and offers tons of space for your chinchilla.
If you haven't purchased a chinchilla cage yet or are considering upgrading, I highly recommend this cage. For information on the Critter Nation Cage, you can read my full review here.
If you're working with a budget, when you arrive on Amazon's product page for the Critter Nation Cage, you can always select the single level cage.
It's basically the exact same cage. You just aren't purchasing the second level at this time. The bottom level by itself is a good size cage. You can then add the second level later, when you have the funds.
It simply attaches to the top of the single level cage to double your chinchilla's space with about 2 to 5 minutes of work.
If you go with the single level now, you will eventually want to upgrade. That's why, If you have the funds to get the 2-level version now, I'd just get it out of the way.
Finally, if you're on an even tighter budget, there are also a few less expensive alternatives. They're not as good as the Critter Nations, but still great options.
You can see them in my post that discusses the best chinchilla cages.
Now, let's get to the cleaning process and make sure whatever cage you do have is always clean, safe and comfortable for your chinchilla.
Cleaning The Chinchilla Bedding
As mentioned previously, you need to discard the bedding each time you clean your chinchilla cage.
You can keep a bulk amount of bedding on hand easily by purchasing the large bags that you can find on Amazon or a local pet store. See my article on recommended chinchilla bedding for links.
That article details my top choice for traditional bedding: aspen shavings. It is what I used for the first few years.
But I have since stopped using traditional bedding and switched to fleece liners (also detailed in that article).
Fleece liners are reusable. They cost more upfront, but then you no longer need to constantly buy more bedding. In addition, they are better on your chinchilla's small bones in their feet.
They also make cleaning so much easier. If you only have one chinchilla, the fleece liners only need to be washed once a week in the washer on cold water.
This will remove all the urine and it takes only about 25 minutes or so to do. Get your chinchilla out for some needed playtime while doing this.
A huge added benefit about the fleece liners is they are also urine absorbent. Even after a full week, there will be no smell of urine and the fleece remains dry from urine spots or from the water bottle dripping.
Seriously, give fleece liners a try. I know 100% you will not be disappointed.
Update: I use the liners detailed in my article on the best chinchilla bedding, but since I bought them, a cheaper version has popped up on Amazon. You can find them here.
Do Chinchilla Cages Need Bedding?
Yes, your chinchilla cage needs bedding. It doesn't matter if you are using a drop-in tray or a pull-out tray, some form of bedding needs to be present
and more importantly, it needs to be designed specifically for your chinchilla to ensure it is safe. Again, I 100% prefer the fleece liners. Aspen shavings are a common choice and safe for chinchillas as well.
Now that the bedding is removed from the cage, we still need to ensure the cage itself is clean.
Remove Hay And Poop And Wipe Down The Cage
You want to ensure you have a dustpan or garbage bag nearby. There is always going to be poop and hay in the cage. Get it all out of the cage and into the garbage.
Hay and poop will also surround the cage in most situations. That is something I clean up daily, though. You can also read more about how to keep chinchilla poop in the cage.
To wipe down the cage, you can use a simple water and vinegar mix and a towel or paper towels. Use one part vinegar with 20 parts water.
Once the cage is cleaned and wiped down, you can place the new bedding back in the cage. Don't place bedding back into the cage without ensuring its 100% percent dry.
I have begun skipping the water mixture and simply placing vinegar on a paper towel and wiping down the bedding tray, in addition to the wooden shelves inside the cage.
It takes about 5 minutes in total.
Clean The Water Bottle
This should be performed at least once a week as well. The more you do it, the better.
For this step, you can use simply use soap and water. If necessary you can also use a mild bleach and water mix.
Most of the time, soap and water is adequate, unless you allowed it to go for too long in between cleanings. Cleaning your chinchilla's water bottle is essential for preventing bacteria from building up.
Bacteria can eventually make your chinchilla sick and that can be dangerous. When chinchillas get sick, the disease can progress rapidly and kill them before you can do anything.
Cleaning the water bottle is a critical step involved with cleaning your chinchilla's cage. Don't forget this step.
Double Check The Water Bottle For Clogs
While cleaning the bottle, you also want to make sure you check the tubes and the drain spout to ensure there are no clogs or obstructions.
Blocking water flow and not allowing your chinchilla to get fluids is a recipe for disaster. Double-check the tubes and clean them adequately whether you notice a clog or not.
This is especially important if you need to leave for a day or for a weekend and a backup chinchilla babysitter can't make it out to double-check on your pet.
Clean The Food Bowl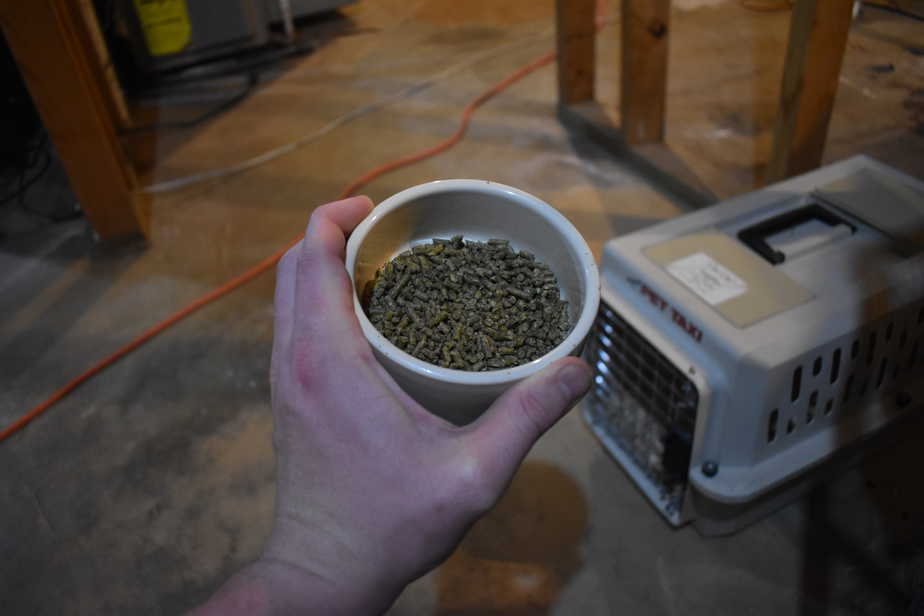 Do you like to eat from the same plate repeatedly? I'm assuming not, and I doubt your chinchilla does either.
Wash your chinchilla's food bowl with soap and water and ensure it's dry before placing food back into the bowl.
Spot Check Shelves And Other Cage Items
Don't forget all the other fun areas of the cage, like the shelves. It all needs to be cleaned. Chinchillas love to climb and all their favorite spots to jump and play should remain clean.
Vacuum spots with any droppings and give them a good wipe down. The goal is to make sure the entire environment in the cage is clean for your chinchilla. Not just a few areas of the cage.
Clean Any Toys
You should also clean any toys inside and outside the cage from time to time. Give them a good scrub down to make sure your chinchilla is always playing with clean, germ-free, and safe toys.
How To Clean Wood In Your Chinchilla Cage
For cleaning wood inside the chinchilla cage, you can use a rag with soap or vinegar for a mild disinfectant. Be sure to remove all food pellets, bedding, and poop droppings from the wood.
Sun Dry Items If Need Be
If you don't have the extra towels and the cage components aren't drying fast enough, allowing them to sit in the sun for a few minutes is another method you can use to speed up the process.
Proper Cage Placement Can Make Cleaning Much Easier
Where your chinchilla cage is located in the home is just as important as learning how to set up a chinchilla cage in the beginning.
If you can easily reach all the components of the cage, your job will be much easier. This is one of the reasons I always preach the Critter Nation Cage to my audience: the 4 doors make it easy to reach every corner.
Don't place the chinchilla cage where it's difficult to reach. This will save you headaches and time in the future and make the process much less of a daunting task.
This, plus a consistent cleaning routine, is always a recipe for an easy and quick chinchilla cage cleaning.
Choose A Good Time For The Cleaning
If you want to clean the cage at a time that is convenient for you and your chinchilla, you can consider knocking it out during one of your chinchilla's dust baths, which should be taking place 2 to 3 times per week.
A dust bath takes your chinchilla a few minutes and if you keep up with cleaning, you should have plenty of time to get the cage clean during dust bath time.
What To Use To Clean A Chinchilla's Cage
Like I mentioned previously, it is best to clean your chinchilla's cage with vinegar or a vinegar mixture. Especially during the deep cleaning process.
It works fantastic and, as long as you dry it properly and place the fleece liners back on the trays, it is completely safe for your chinchilla.
Vinegar is also fantastic for removing any pesky urine stains on the trays themselves. It is my go-to cleaning solution for my chinchilla's cage and I do not think you will be disappointed using this as your best option either.
To remove hay, poop and other solids, I use a shop vacuum. I keep it right next to the cage, so I can quickly vacuum up anything that needs to go.
Do A Deep Clean If You Missed Some Cleanings
If you have missed some cleaning or it has been a few weeks since a good scrub down, you need to perform a deep clean.
This is the time to do a full inspection of the entire cage. Remove any dangerous or faulty shelves or cage items. Then clean what remains.
You can use the vinegar to complete this cleaning. Be 100% sure that everything has been rinsed completely before returning your chinchilla to the cage, to avoid your chinchilla ingesting too much vinegar.
Wipe everything down, and then wipe it all down again with a basic wet rag. That's it. Nothing too fancy about it and doesn't take more than a few minutes.
Your Chinchilla Can Be Present During Cleanings If You Wish
I suggested completed this cleaning while allowing your chinchilla to take a dust bath. Your chinchilla can also be in the cage during this process, if you prefer
If you need to relocate items, remove items, or perform any other maintenance, you could allow your chinchilla to remain in the cage.
Be sure that your chinchilla is not going to run off on you and that you are careful not to scare your chinchilla or cause any harm.
When a chinchilla is scared or feels cornered in its cage you may experience it barking. It may also make other sounds or noises trying to let you know it is scared.
This is likely to happen most frequently during the first few cage cleanings while they are still adapting to their environment.
Do not poke around near your chinchilla because if it is scared and letting you know, then it is also the most likely time that your chinchilla may bite.
Leaving your chinchilla in the cage during the cleaning is perfectly fine. Just be sure to be aware of everything just mentioned directly above.
How Often To Clean Chinchilla Cage: Final Thoughts
Cleaning your chinchilla's cage is not a tough task, or even a time-consuming task, as long as you keep up with the cleanings, and you know how to do it effectively.
And you really should keep up with the cleanings. You don't want your chinchilla to get lice, fleas, or some type of disease, do you?
Hopefully, this brief post has given you the information needed to get the job done to perfection. It should only take 15 minutes to do a cleaning, if you stay diligent and clean the chinchilla cage often.
Always use safe chemicals, chinchilla safe bedding, and do a complete job.
Chili and I wish you the best of luck with your new chinchilla and hope you learn how to clean your chinchilla's cage effectively, in no time at all.
Share your thoughts about the chinchilla cage cleaning process.
Do you have any recommendations for cleaning a cage more effectively? What has worked well for you in the past?
Be sure to share your thoughts, stories, and concerns by dropping a comment below.
As always, Chili and I appreciate you stopping by and reading today and we will see you next time. Happy cleaning!